FAQs: Urbis Designday 2012
IMPORTANT MESSAGE REGARDING URBIS DESIGNDAY PASSES:
If your Urbis Designday passes were purchased before 20 March, they have been sent to you via post before 20 March. If you have not received them by 9am on Friday 23 March or if you are unable to access your postal address/box before or on that date, please contact Zara Tempest - zara.tempest@agm.co.nz. We will hold your details and the required number of passes for you at the MINI Garage, 130 Ponsonby Rd on Saturday 24 March and you can collect them from 10am. Your name will be on the door list; you will not miss out.
Urbis Designday passes purchased after 5pm on 20 March, 2012 will not be delivered via post. Please collect your passes from the MINI Garage, 130 Ponsonby Rd (Designday stop #1), from 10am on Saturday 24 March. Your name will be on the door list.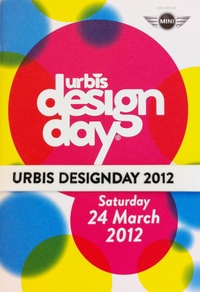 PLEASE NOTE: Your Urbis Designday passes consist of a white event wristband and a booklet. There are no tickets as such. The white wristbands allow you access to the free transport, free hospitality and the design installations from 10am to 5pm on Saturday, so it is important that you wear them on the day. The booklets are a helpful guide to the showroom circuit.
Urbis is incredibly excited to be hosting Urbis Designday for a 7th year. Both the showrooms taking part and the collaborations that you are about to see will wow and inspire you. If you haven't been to an Urbis Designday before, or you want to brush up before taking the Designday tour again, have a read of the FAQs below.
Q. How do I buy passes and when will I receive them?
A. Passes are available online at eventfinder.co.nz. It's just $30 for a single pass, $50 for a double pass, or $99 for a double pass + one year subscription to Urbis Magazine.
You will be sent an Urbis Designday booklet and wristband to your postal address between 10 and 24 March, 2012 and this will count as your ticket.
The wristband will allow you access to the installations, free transport and hospitality and the booklet will be your guide to the participating showrooms and their collaborators. Please note, the receipt you receive from eventfinder.co.nz is NOT your ticket.
Q. What time does Urbis Designday start, and where?
A. The day runs from 10am to 5pm (we recommend starting early) and you can start at any one of the Designday locations. Choose the spot that's most convenient for you:
1. MINI HQ + Material Creative + Urbis (located at the MINI Garage Auckland, 130 Ponsonby Rd., Ponsonby)
2. Douglas + Bec + Workroom (located at 9 St Mary's Rd., Ponsonby)
3. Hafele + Xanthe White (located at 20 Beumont St., St Mary's Bay)
4. Fisher&Paykel + Alt Group (located at The Cloud, Ground Floor, Queens Wharf)
5. Hewlett Packard + Unitec (located at The Cloud, Mezzanine floor, Queens Wharf)
6. Kohler Design Centre + Resene + Art Associates (located at Level 3, 65-73 Parnell Rise)
7. Coastal Design Co. + Kathryn Wilson + Touch of Spice (located at 24 Garfield St., Parnell)
8. Essenze + Rachael Lovelace (located at 223 Parnell Rd., Parnell)
9. Spazio Casa + M.A.C Cosmetics (located at 535 Parnell Rd., Parnell)
10. BoConcept + LeeAnn Yare + Huffer (located at 20 Normanby Rd., Mt Eden)
11. ECC Lighting & Furniture + Zambesi + Auckland War Memorial Museum (located at 39 Nugent St., Grafton)
12. Design55 + World + Reuben Paterson (located at 55 Upper Queen St., Newton)
Q. Where do I collect my Urbis Designday bag from?
A. These are available at all of the showrooms on the day. If the showroom you start at has run out of bags, the next showroom on the tour should have one.
Q. How do I move around the different locations?
A. Urbis provides branded taxi vans which run every 5 minutes between the Urbis Designday showrooms, following the route on the Designday map in the middle of the booklet.
Q. What if I want to bring someone along and they haven't got a pass?
A. Passes are on sale from 9.30am on the day at the MINI Garage on Ponsonby Road. Passes on the day are $35 for a single pass or $55 for a double.
Q. Am I expected to buy stuff on the day?
A. Many of the showrooms on the day will have special offers and discounts, however, there is no expectation for you to purchase anything on the day.