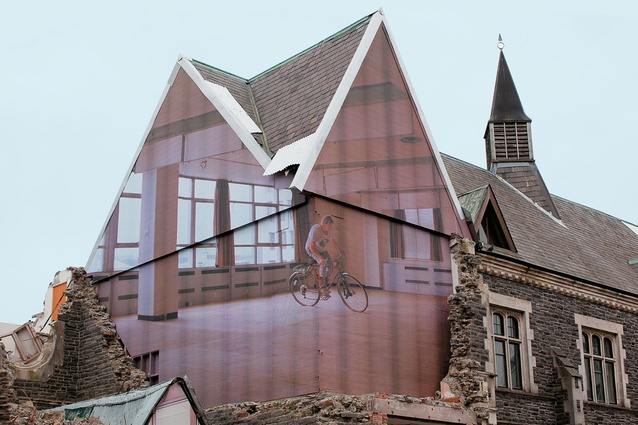 In Mike Hewson's most recent art instalment, he has progressively re-inhabited half-fallen Christchurch buildings, installing a series of photographic post-ups that both inject new life into these empty shells and seem like ghosts of a previous time.
Blurring the lines between solid and void, broken and whole, real and false, Hewson's large-scale works force one to look again at the now-familiar broken buildings. The photos seem so naturally placed that they could be glimpses into inhabited rooms, but the realism and clever positioning is offset enough to keenly remind one of what has been lost.
Figures from the New Zealand art scene, such as Tony de Latour and Sam Harrison, are literally put back into the city's architectural spaces through these large-scale photographic interventions. The images implanted in the partly destroyed building were taken in the Government Life Building Studios, which formed the artistic base for a number of artists up until the Christchurch earthquake of February 2011, and Hewson's 130m2 installation acknowledges their significance while also commenting on the great Christchurch landscape. In Homage to the Lost Spaces, Hewson dresses the old buildings for their burials, transforming something destined for demolition into something imbued with life.