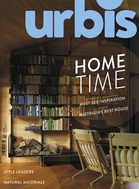 August 2012 (Issue 69)

The latest issue has everything that's new and stylish in interior spaces, places, people and design objects.

A gabled roof and lengthened eaves lets visitors ski on top of this distinct mountain cabin.

Interior designer Lauren Hare has created a masculine and luxurious retreat in Pilot Bay.

A young couple's stylish city pad has big views and beautiful small details.

From minimalism to out-there opulence, Urbis finds some of the most beautiful kitchens and bathrooms.