Hot House by Sou Fujimoto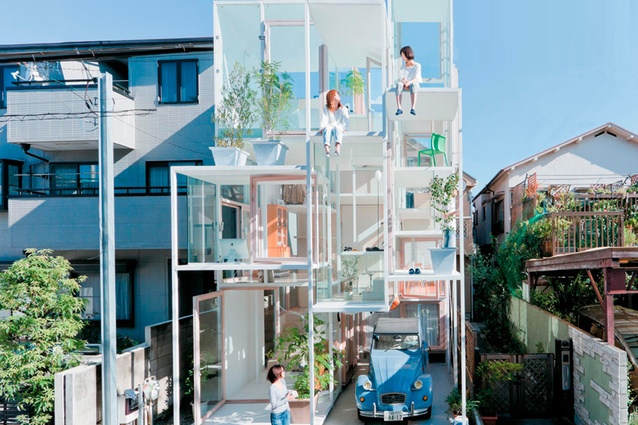 There's a moment in the film 1941 when the invading Japanese are making off with a radiogram that they can't fit into the turret of their submarine and one of them says: "We must find a way to make these things smaller". Because that's what they do – make things smaller. For the Japanese, the house is no exception. Notorious for making entire houses in tiny spaces where we in the West wouldn't dare hold a conversation let alone lie down to sleep, the Japanese have mastered the art of 'less is more'.
The NA House by Sou Fujimoto Architects, in a quiet neighbourhood in Tokyo, at 85m2 (on a 50m2 site) is small but not unusually tiny. What are tiny are the 21 individual floor plates at various heights that make up the house. What is unusual is the house's transparency. The house is a playground of white structure and glass: small interconnecting platforms that unite to form a kind of tree house – if trees grew in such a rectilinear, modular fashion. The clients expressed a desire to "live as nomads within their own home". The floating platforms create a sense of placelessness that delivers the nomadic but with it, perhaps, a restlessness, a frustration of never being located – a decidedly unhomely home.
The platforms range in size from 2.0 to 7.5m2 connected by short stairs, ladders and moveable steps – branches in effect. There is something oddly unnatural about this natural metaphor, which is hard to pin down. Perhaps it is the constraining act of regulating the tree into orthogonal modules, or the nervous exposure that such an expanse of glass encourages. Or maybe what is unnatural is the imposition of a Western sensibility on a Japanese architecture. What would I know? I've never lived in Japan. Or a tree. 
Take a closer look at House NA in this short clip: