Set in the remote, white-capped mountains of Al, Norway, this winter retreat is sure to be every ski enthusiast's paradise. One of the client's initial wishes was to go skiing, sledge riding and winter picnicking on top of the cabin. And so, Mountain Hill Cabin, designed by Fantastic Norway architects, will have a gabled roof set at 23 degrees with lengthened eaves, for visitors to ski and sled on.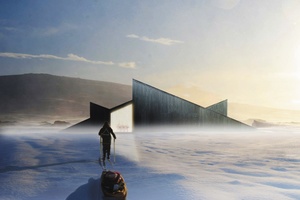 Construction is due to start during the northern summer of 2013 and, because of the fragile and highly restricted mountainous area, access is only by skis and snow scooter.
With its jutting angular features and snowdusted roof, the cabin will appear to have sprung from nature itself, looking not unlike an abstract mountain-scape. It has been designed to integrate with the landscape, so that both snow and wind can slip gently over it, rather than beat against the structure. The timber exterior was dictated by local authorities, to ensure a classic mountain-lodge appearance.
Inside, three bedrooms and a living area make up the two storeys with large, sun-facing windows allowing light to fill the interior. It has specially insulated walls so visitors are sure to remain warm and comfortable and will need only to step outside to ski the slopes and take in the breathtaking surroundings.