New Plymouth: Akira Akira
Akira Akira spent most of the past ten years studying, teaching and building his practice in Australia – most recently in Melbourne. But eight months ago, when his partner Sarah Wall was appointed assistant curator at the Len Lye Centre, the native of Kobe, Japan made the move to Taranaki.   
Akira's practice was well-established, and he was teaching at RMIT but he says, "I had been aware of Govett-Brewster for over 10 years, and that was really the only thing I knew about New Plymouth. And, with the exhibition programme, as well as the artist-in-residence programme, I thought 'this is a great institution… so, yeah, go for it'."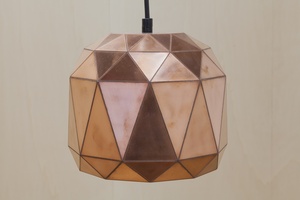 One of the constant threads running through Akira's practice is the intersection of sculpture, installation and interior architecture. His current work includes a collection of faceted light fixtures/interior sculptures based around precision and dimension, and the expression of mathematical proportions and logic. These sculptures vary in materiality and geometry; however, Akira explains, "the shape comes directly from Buckminster Fuller – it's a very structurally sound entity, but I'm asking how can I push it, and change it and make it evolve? It has become a family of sculptures… and they progressively change, it's a constant cross-pollination."
Akira designs each sculpture on AutoCAD, and each facet is water-jet cut. The assembly of the facets is hands-on. "That's another thing that's quite consistent in my practice. You see these at first, and think they are fabricated, but once you look more closely, you discover the presence of hands on it. It is actually handmade."
As much as Akira considers himself a contemporary artist, he enjoys the process of crafting. He says of his new workspace, "this little space will be a place of conceptualising, production and experimentation, as well as an open studio. And, of course, I'll be looking for exhibition opportunities as well."
For the Insider's Guide to New Plymouth click here.