Sustainable living and loving what you do are vital to Laurie Steer. In a studio behind his Mount Maunganui home, Laurie exists in a world of possibility and magical realism. Taking pots for swims, making glazes out of ashes and smashing up pieces with 'bad stories' are all part of the daily routine. 
–Urbis: Laurie, how did you come to be based in Mount Maunganui?
Laurie Steer: My wife and I were born here and when we had kids we decided to move home. My house is across the road from the beach, there's an organic park next door and our neighbours are nice regular people. I go overseas most years, so I get to enjoy the big cities and culture, but I like the anonymity small towns provide. Saying 'good morning' when you put the bin out and picking up your dog crap are the big issues in small towns, which leaves plenty of time for undisturbed pottering. 
Urbis: Was potting always a career objective for you?
LS: No, but I always liked dirt. My nana was a big gardener who outlived two wars and three husbands. She gardened to feed her kids, which developed in her a real connectivity with the earth. She showed me that the earth was alive and it was to be respected and she showed me that in her garden in Hikurangi. I used to think dirt was magic because you could poke things in it and they would transform. 
Urbis: You trained under Barry Brickell, how has that experience governed your career path?
LS: I don't have a career I have a life. Barry thoroughly un-trained me and un-taught me more than anyone and I am eternally ungrateful. He shits on academic authority and is the closest thing to Picasso that New Zealand has ever had. He is a beautiful beast – the most horrible, most generous, most impossible, most enlightened, most difficult and annoying un-spokesman for an un-definable active philosophy of freedom most people will ever experience and he doesn't like visitors.  
Urbis: Engaging in both fine arts and homewares can be a balancing act, how do you negotiate the two?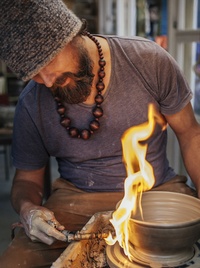 LS: I don't worry about the labelling. My job is to make the pots. Good domestic pottery is like premium conceptual art. How often can you handle a painting, hold it in your hands, touch it with your mouth or receive tangible nourishment from it? People cry when a favourite cup breaks but I say it's an honourable death, a death in service. I make another one and a new experience begins. Just through sheer volume I'm pushing at the edge of what I understand as a potter, and I suppose that's when the things classified as art arise. 
Urbis: You have a noticeable attachment with the earth. Has this evolved as your work has progressed?
LS: My pottery is made out of naturally sourced materials, so through years of gathering stuff I've become pretty passionate about our natural world. I try not to think about any separation between the environment and myself. The earth has been pretty great to me; besides giving me and my family somewhere awesome to live it provides all the materials I need to pot. This earth dishes up food, water and oxygen in abundance and we humans seem to be working around the clock to screw it. Don't get me started or I'll put my embarrassing eco-warrior t-shirt on.
Urbis: You talk about human connections, both in terms of being philosophical and conceptual, how has your fascination in audience engagement unfolded in your new work?
LS: I like to make things that generate dialogue, and I think we need stories because they help us understand life. I've made a tea set glazed with the ash of a client's dead father so he can remain in the conversation beyond death. I take my pots swimming at the beach because the salt water charges them up and because its fun. I drop them behind the breakers and let them go, then swim out hours later and try to find them. I smash a lot of pots because I don't want any bad stories. A pot's ability to communicate is assessed and then it lives or dies. People seem interested in my personal processes but my intention is not to be sensational. I just feel my way through different situations and do what I think needs to be done to make the best pots I can. 
Urbis: What is your dream experience… a show, a collaboration or a design?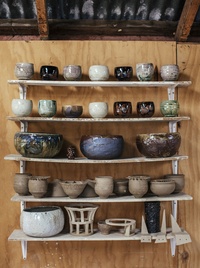 LS: I live my dream experience on a daily basis. I wake at my leisure without any alarm clock and make tea. I hassle my kids and help get them off to school. Then I saunter out to my palace (studio) and I make stuff. Sometimes someone interesting will pop over for a visit. Sometimes I'll stroll to the beach and several times a week I do yoga. In the evening I cook dinner and play with the kids. I'll have a drink or two then return to the studio till late. Then I read until I fall asleep. I don't observe weekends and when I'm not engaged in the above I'm usually traveling on related business enjoying the world. I'm the poster boy for doing what you love!
Urbis: What common threads run through your current work and where can we find your work next?
LS: My arts practice tends towards the end of functionality or at least some kind of confusion around perceived usage. That does actually sound pretty awesome but a lot of what happens in the studio is holistic, meaning I just run with themes I enjoy and the work makes the work as the day goes on. My next solo show is at The Young in Wellington in August. It's called 'Pound for Pound'. I've dug up their driveway and found clay, which I'm using to make everything. Anything not consumed during the exhibition will be smashed back into the driveway at the end. Although my primary focus is simply making pots, there are some interesting conceptual threads arising as the project progresses and it'll be fun to take the driveway inside the gallery for a while and then throw all the art out. 
Urbis: If you could be any mythical creature/person who would you be and why?
LS: I'd probably be Johnny Depp for my wife's sake. I think she'd enjoy that and I reckon Johnny could pot so my normal routine could continue. If, for some bizarre reason, my wife objected to me having the appearance and mannerisms of Johnny Depp, that's okay – I've still got options because hey… I'm Johnny Depp!