New Zealand's best houses announced
The New Zealand Institute of Architects Architecture Awards 2011 bestowed top honours to five New Zealand houses on Friday night.
These top houses are:
Island retreat by Fearon Hay Architects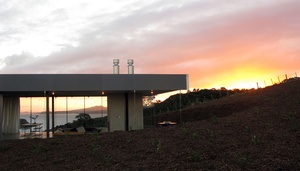 Judges citation: This project successfully combines formal innovation, a mastery of materials and fabrication, and an intriguing spatial arrangement. Surmounted by suggestive folded and tensioned roof elements, the house is rather severe in appearance. However, this austerity is alleviated by occupation, as the inhabitants move within a loose courtyard conceived as a camping space and the taut boxes open up to reveal accommodating and refined interiors. The house exhibits an assured use of a simple palette of materials, elegant composition and refined detailing.
Waiheke Island house by Mitchell & Stout Architects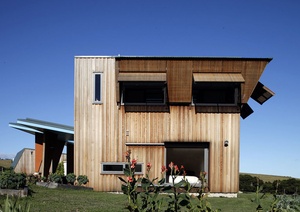 Judges citation: With its poetically generated arrangement of volumes and forms, this house, designed as a retreat from work, offers a range of inventive and enjoyable spatial experiences and a generous and effortless relationship to the outdoors. The composition is assured, and rather quirky, too. The house offers several extraordinary moments: the 'thinking room', a double-height space for music and contemplation so arresting that one's breathing changes upon entry; the guest sleeping areas, tiny screened spaces reminiscent of Ryokan architecture and also suggestive of tree huts; and the brightly yellow main bedroom. This is a house that engages with the spirit as well as all the senses.
Local Rock house by Patterson Associates Ltd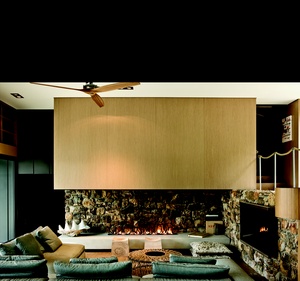 Judges citation: A beautifully composed and proportioned assembly of simple and assertive orthogonal forms is skilfully massed on a tight site. The hard, good looks of the house are softened by the texture of the local rock, with no sacrifice to the restrained refinement of the composition. The interior is exquisitely crafted and detailed; as on the exterior, materials are masterfully deployed. This house, especially its main living floor and its light-giving rear courtyard, would be a wonderful place for summer gatherings. The programme is skilfully handled and the building mass cleverly minimised: the house is an exercise in understated bravura.
Te Mata house by Stevens Lawson Architects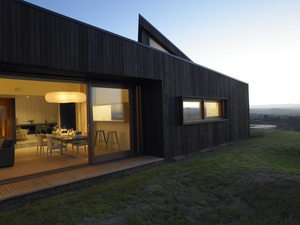 Judges citation: The Te Mata House is beautifully conceived for its elevated and exposed site. A recessive, black form provides shelter from the wind and sequential framed views. Art is important to this project: the house, which itself has a sculptural quality, was always envisaged as a repository for artworks, and a cleverly striated plan allows the clients' collection to be incorporated into both rooms and circulation areas. This is clearly a house designed for particular lives; addressing their clients' requirements, the architects have provided them with an appropriate and enjoyable home.
Te Kaitaka Lake Wanaka Retreat by Stevens Lawson Architects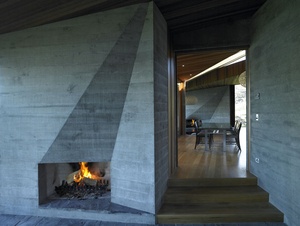 Judges citation: Te Kaitaka is an inventive and expressive response to a remote and rugged site. Wrapped in its timber skin, and shaped by angular folds and deeply bordered openings, the building, which is located on the shores of Lake Wanaka, possesses a sculptural quality that mirrors the surrounding landforms and mountains. Internally, the effect is staggering, even rather solemn; with its play of timber and concrete, folded planes and textured surfaces, the house has a gravitas and presence uncommon to New Zealand dwellings. Beautifully made and appointed, Te Kaitaka is a uniquely rendered response to an extraordinary place.