Buenos Aires: Sebastián Adamo
Last year Adamo Faiden, the architecture firm that Sebastián Adamo runs with his business partner Marcelo Faiden, unveiled the refurbishment of a 1970s chalet in the neighbourhood of Belgrano. "Here in BA you have many different typologies living next to each other," says Sebastián of the eclecticism of residential neighbourhoods.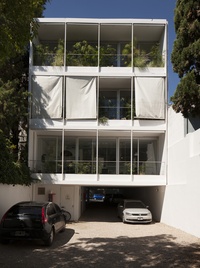 The Fernández House intervention included the creation of a double façade, the exterior one uses a stark white metal, scaffold-like construction topped with perforated sheet metal. From these, fronds and stalks of various plants rupture to the outside in random and alluring patterns. Much like this house, there is an almost meditative quality to their exteriors, a silent and delicate sculptural feeling complemented by an excellent modulation of natural light to its interiors.
"We have a short but intense tradition with the materials we are working with," says the architect. "Materials like steel and glass and sheet metal works well with these problems of introducing climate control."
Sebastián and Marcelo have both studied architecture in Buenos Aires and Spain, and their firm has exhibited in such prestigious venues as the Venice Architecture Biennale and the Guggenheim Museum. 
Of local residential architecture he says: "BA is like a slow moving pulse. We have good tradition from the mid-20th century and it has a very good 'street capital'. You see those façades and the courtyards and plants and configurations from mid 50s to 70s. It is great material to work from."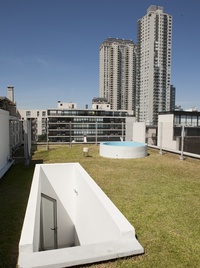 Sebastián says one of the best residential architects the city has had is the modernist Mario Roberto Alvarez whose influence is obvious in the Adamo Faiden oeuvre.
Buenos Aires, says Sebastián, favours small ateliers rather than large firms. There is not much red tape and small creatives can get on with the business of architecture without spending excessive resources on bureaucracy. "We are living in a very open moment," he says, "an eclectic and very dynamic moment in architecture where we are always trying to dialogue with the outside world," he continues.
Is the architectural discourse nationalistic? "The new generations are not very preoccupied with 'being Argentine,' we work more freely this way."