Lauren Hare of Hare Interiors creates interiors that blend a rich palette of materials, textures and colours with carefully edited presentation.
Kathleen Kinney talked with the designer about her inspirations, influences and must-have items.
You have a degree in fine arts – what was your major when you were at art school?
Lauren Hare: I went to Elam [School of Fine Arts, University of Auckland] to paint, but after the first year I majored in design as I enjoyed working within the structure of a brief and the real art of problem solving. I also completed a postgraduate in creative advertising. 
When did you make the transition to interior design and why?
LH: I have always loved interior design so when I was presented with an opportunity to work on a new build, I took the plunge and left advertising and have never looked back.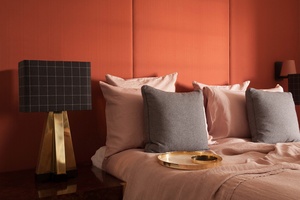 Was there a specific moment when you knew that you had made that transition, and that being an interior designer was now your full-time career?
LH: Since I can remember I have edited and re-edited every space I inhabit. I would devour my mother's copies of Vogue Living like they were children's books. Interior design was always something I saw myself doing at some point in my life.
How does your previous experience inform your current work?
LH: Fine arts and advertising shape my work every day. Both practices drill down on the rigorous process of coming up with and executing ideas, having a cohesive vision right down to the most minute details.
In terms of the 'artistic' side of your overall career and your current practice – who are your biggest influences?
LH: My influences are always changing, depending on the current project. I channel many different people, places and periods. At the moment, it's Maria Pergay, Pierre Cardin, Pierre Jeanneret, Charlotte Perriand, Willy Rizzo and Milo Baughman to name but a few.
Do you have a signature look or is there a certain element that you always use in your designs?
LH: I tailor my design to my client's brief and the context of the project – the location and architecture of their home or space. So I would say my work has an absence of any particular style. But I'd say my personal style is a contemporary take on mid-century design.
Are there colours or materials, time periods or design eras that you keep coming back to?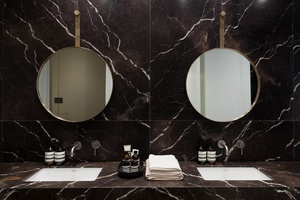 LH: I love the freedom of things that are made by hand or come from nature. Materials such as stone, onyx, metal, timber, wool, cashmere… But I also use a lot of lacquer, perspex, tinted mirror and glass in contrast. For me it's all about the combination of elements to create a dynamic or theatrical environment, rather than one specific medium or time period.
Your work is both residential and commercial – are there any common threads that you try to incorporate into both settings?
LH: When I start a job I create a storyboard for each project – building a scenario with things I have collected from magazines, movies, art, people, places and materials. This is the really exciting bit of the project where you get to create something unique and tell a story. For me, whether it's a commerical or residential setting, successful interiors should evoke a strong feeling that's almost theatrical, so my creative approach in both settings is similar. It's the application and fulfilling certain practical requirements that's different. 
Conversely, what are the big differences between the two environments?  
LH: Residential interiors are an incredibly personal thing to create; I usually end up working very closely with my clients to achieve a unique interior for each individual, whereas I find commercial interiors have a little more distance between them.
Is there anything you'd suggest for a commercial interior that you'd consider inappropriate in a residential setting? And vice-versa?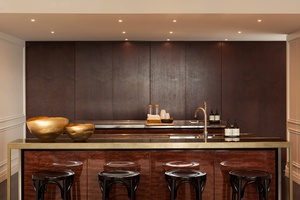 LH: There are no absolutes, it really depends on the job. Scale and risk are two things I look at, and address, very differently between the two settings. Commercial projects can allow you to take more risk with your ideas, having said that I have some really brave residential clients who are equally as keen to really create something new and interesting, which I love. 
You also create furniture when the project requires it. What are your influences when it comes to furniture design?
LH: For me furniture is just as important as the fit out of a space, so a lot of our pieces are custom made to allow us to have control over every detail. We usually develop these key pieces at the beginning of the project when we put together the story board. These pieces are just as important in creating the right tension in a space as say a kitchen or a custom pair of glazed doors. 
I am also developing my own range of furniture which predominantly references 1970s pieces for their simplicity and sculptural form.
We often speak of Scandinavian, or Brazilian or Japanese styles when it comes to furniture or interior design. What do you think are the defining elements of New Zealand interior design?
LH: Relaxed. I tend to take cues from the architecture of the project and go from there but I find most Kiwis like an element of casualness to their interiors; that's the way we live.
Tell us about your own home.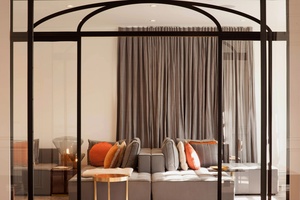 LH: I collect vintage 1970s American furniture. I love the form and the bizarre combination of finishes you get with furniture from this period. Working each piece in can be like a puzzle but I love the tension this creates. 
What are the five things that every successful home interior should have?
LH: Drama: there should be something challenging or unexpected. 
Luxe: a bit of luxury or indulgence brought into everyday life. 
Vintage: something old – not everything should be shiny and new. 
Simplicity: edit and re-edit everything! 
Good quality basics: definitely spend money on a great sofa and dining table.
What's your dream project?
LH: I have lots of them! I love getting a new brief and the whole process of coming up with a concept for a client. Putting the pieces of the puzzle together until you have a dynamic fit, this is the most challenging and exciting part of each project and I get to do it with each and every one.