Inside Story: Jessica Barter and Charles Walker
It is a feat in itself to pin down two of New Zealand's top names in architecture for a mid-week, midday chat, but at Charles Walker and Jessica Barter's villa in Grey Lynn, Auckland there is a sense of two comfortably busy people at the peak of their careers and loving life. On the street verge is a tree decorated with Pacific leis, an ode to Christmas created by a neighbour, and on the front steps the couple's four-year-old son Jimmy, home from daycare for the morning, is awaiting my visit.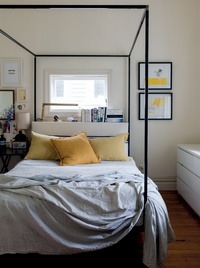 To be home on a weekday is clearly something of a treat for the whole family, who keep a tight schedule. Charles Walker is the creative director of the New Zealand Exhibition at the upcoming Venice Architecture Biennale, an associate professor at AUT and the founding co-director of Colab, which investigates and teaches design and creative technologies. He has lived and worked all over the world, which gives him a clear perspective of what makes New Zealand architecture unique. In 2005, he authored and edited the highly regarded book, Exquisite Apart: 100 years of Architecture in New Zealand.
Jessica Barter is also part of the team responsible for the New Zealand Exhibition, a job she juggles alongside running her successful architecture and design practice Bureaux, which she founded with friend and fellow architect Maggie Carroll in 2010. 
Charles and Jessica moved from an inner-city apartment when Jimmy was 18 months old, says Jessica.
"Bringing up a child in the city seemed a wonderful idea to pursue, but the reality was different. We love it here though; you can open the house right up and move easily from room to room. We also spend a lot of time on the verandah, overlooking the street."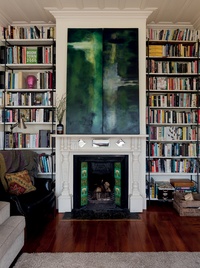 The space the villa affords them suits Jessica, who appreciates having all her favourite things on display, something Charles, more a fan of clear surfaces, has graciously accommodated. Jessica once lived in a flat filled with artists and architecture students and a lot of the artwork and sculptural pieces that colour the home have been created by these talented friends.
Several Bureaux-designed furniture pieces also take pride of place in the villa. After completing her architecture degree at Auckland University, where she met Maggie, Jessica undertook a Masters on the topic of domesticity. "It was about all the 'things' that are contained within the walls of a home. So the subject of this article is close to my heart," she says.
Future Islands, the concept for the New Zealand Exhibition, was the brainchild of Charles and Jessica. They came up with the idea while dining at a Dominion Road restaurant. This is just the second time New Zealand will exhibit at Venice, so it is an important opportunity to showcase our architectural talent, style and technologies – and the couple does not take this responsibility lightly. 
Future Islands will consist of 20 floating islands, each populated with architectural models, says Charles.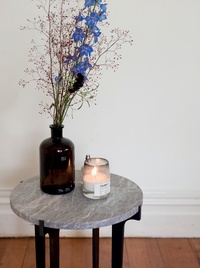 "Some of these models represent existing buildings and some are speculative or imagined, but together they signify the current and future states of New Zealand architecture. Visitors will be able to move around the islands at their own pace and view the exhibition from their personal standpoint. This concept was derived from Italo Calvino's Invisible Cities, in which the Venetian explorer recounts tales of 55 cities, which turn out to all be Venice seen from different perspectives. The islands also reference the location of the Biennale, on Venice's islands." 
While a long way from Venice, there is a sense that this Grey Lynn villa is an island of refuge for the family, ensconced in comfort, leisure and self-expression.
Future Islands, New Zealand's national exhibition at the Venice Architecture Biennale, takes place from May 28–November 27 2016. labiennale.org