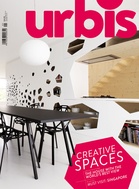 February 2012 (Issue 66)

Frances Chan profiles Australian artist David Bromley who farewells his art collection to start a new life in Byron Bay.

Kennedy Brown talks to Urbis about being a New Zealand designer, and his most recent Pacific-inspired works.

Combining architecture with relaxation and haute couture with massage therapy.

Ong Ker-Shing and Joshua Comaroff architects explore new avenues of design thinking in buildings and landscapes.

Volkswagen's has outlined its vision for urban mobility in 2030.

Hanging off a cliff overlooking Lake Wakatipu in Queenstown, Jagged Edge takes in the view.