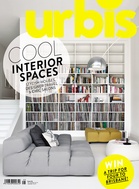 October 2012 (Issue 70)

Wellington's newest bar calls the iconic Embassy Theatre home.
In New York's trendy Tribeca, New Zealand architects Fearon Hay have designed a world class apartment full of unique charm.
An hotel in the Elqui Valley of Chile looks to the stars for inspiration.

Tommy Honey looks at the many-layered charms of this demurely screened Parisian house.

Kobi Bosshard has spent a career crafting flawless pieces of contemporary jewellery that inspire and impress.

We talk to the Auckland interior designer about working alongside New Zealand's top architects and her life in design.