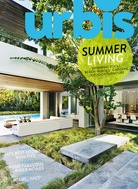 February 2013 (Issue 72)

The summer issue of Urbis is on newstands now.

Actor Ian Hughes shares the prized possessions in his Newton, Auckland, apartment.

Lauren Palmer tells Urbis about her job creating some of the world's coolest cookware.

Mount Maunganui furniture designer Dan Gillingham talks about sustainability – and his super-stylish new coat stand.

Always-sunny Miami, Florida is the latest city to be profiled in Urbis. Read on to get the low-down.

New Yorker turned Miami local, architect Allan Shulman is rebuilding Miami, his adopted hometown.

Urbis celebrates a chair made for shoebox apartments.