Designed to match: Part 2
In the second of a series, Urbis teams up with Fisher & Paykel to explore creative collaborations.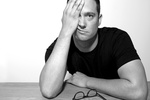 Richard Orjis
Artist
What did you want to accomplish with these images?
Malcolm Walker has created this beautiful, light-filled domestic space that references modernism and the industrial. I wanted to add to that by creating a narrative that played with opposites, adding plants and flowers and the dreamy presences of model Jordan Daniels in whimsical and colourful Kristine Crabb clothing. 
Cooking in itself is somewhat ceremonial; why did you place what looks like a rather primitive meal into a rather modern appliance?
I wasn't thinking primitive really, but I do enjoy creating ritual and shrines in my art practice. The still life images are inspired by my love of South Auckland and the beauty and vibrancy of Indian and Pasifika fare to be found there. The kitchen is the centre of home because of food, and food expresses our primary need for nourishment, culture and connection.
Why did you select those specific plants?
I was thinking about the paintings of Henri Rousseau and how he fantasised what a jungle would be like, but having never visited one. I've combined plants from disparate parts of the world to make my own imaginary version of a house in the wild. Most of the plants would be described as subtropical but I've added irises and tulips – which is ridiculous, as they would never be found naturally in a jungle setting but… this is a fantasy.
Malcolm Walker
Architect
It is said that the St Mary's Bay (Auckland) home where this kitchen resides was made sometime in the late 1800s by an English captain from the bricks he used in his ship as ballast.
Stunning kitchen. Tell us about your material choices.
The house itself is very old and raw and it is made out of brick. It is a very simple, old cottage and with these materials I was trying to get something of the substance of the building – so we replicated some of the materials with the concrete island and by using tiles, which are fairly simple and traditional. We didn't copy the manner but tried to keep the essence of simplicity and massiveness.
What first attracted you to the Fisher & Paykel product for this particular space?
They were good, square, simply-styled appliances. They matched the materials we were using quite well and… obviously are very well-built.
What are your thoughts on Richard Orjis' activation of your own work?
I am amused! It is a family kitchen and a nature takeover is the last thing you'd expect in there which… I guess… is the point. I have worked with New Zealand artists John Reynolds and Bob Ellis in their kitchens in the past and it is always great to see how artists get interested in the same level of details that I do. I tend to be alittle safer, but artists are always interesting to collaborate with!