Anna Szonyi was born in Hungary, lives in Dubai and spends most of her life missing one or the other.
Not that there's much time to feel homesick right now: earlier this year, the 32-year-old won the Dubai Urban Commissions Competition for the Boomerang Bench, an adaptable, customised functional seat comprising a number of solid-wood pieces on a steel structure that follows the lines of a boomerang.
"I'm at the prototype stage now but am working flat out to scale it up for mass production," says Szonyi.
As a child growing up in Budapest, Szonyi loved two things above all else: drawing and building things. Architecture seemed like a perfect fit.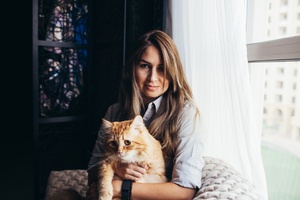 "I was accepted to the architecture, interior design and furniture design course at Moholy-Nagy Institute of Applied Arts, one of only 13 students accepted from 350 applicants. I also completed a Masters in design management at the same time."
In 2007, a friend offered Szonyi a job at an architectural firm in Dubai; she couldn't get on the plane fast enough.
"I had just graduated and was keen to see the world."
Her younger sister, also an architect, joined her two years ago and the pair set up home in Dubai Marina, chosen for its studio space which contains their respective design projects.
Currently Szonyi works as a design manager for a real-estate development firm. Evenings and weekends are spent developing her furniture, object and concept architecture brand.    
"The plan is to go out on my own in the not-too-distant future."Dubai, she says, is the perfect location for her range of functional objects. 
"Dubai really is the city of opportunities. If you're prepared to work hard and stick it out, you'll be rewarded."