With studios in Melbourne and Hobart, Archier is one of the most exciting, emerging architecture practices working in Australia today. Their residential projects, including Sawmill House and Five Yards (featured in Urbis issue 92) are head-turning studies in bold material solutions and dynamic environmental responses.
Leanne Amodeo speaks with co-director Chris Gilbert about their hands-on approach, construction methodology and what inspires them.
Urbis: Can you tell me about the origins of Archier, which you recently established with Josh Fitzgerald and Chris Haddad?
Chris Gilbert: We originally met and became good friends at the University of Tasmania, during which time Chris and I spent a semester at Lund University in Sweden. When we came back to Australia in 2009 we moved to Melbourne and studied our Master of Architecture at RMIT. Josh moved over as well and studied his Master of Architecture at Deakin University. Over the next five years we were all working at different architecture firms, but we'd regularly catch up and talk about 'another way to practice'. Coming from the University of Tasmania, we have a really hands-on approach to architecture that involves learning by making. So we started talking about creating a practice that was more involved in the making process and in research, in particular material research.
Urbis: How pivotal was Sawmill House in the practice's establishment?
Archier was established in 2012, although we didn't actually start practicing officially until about two years ago. My brother decided to build a home and we used that as the means to begin our practice. So I left the job I had and designed and built Sawmill House with my brother. I was constantly talking to Chris and Josh about the process and they came and worked on the house too. The learning experience came from actually being on site and making; we decided this is how we wanted to practice.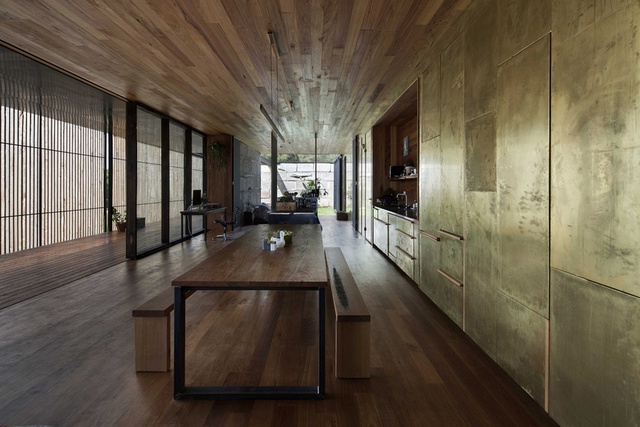 Urbis: Did you start designing furniture and lighting at the same time?
We were making furniture and lighting during that period as well, because we saw it as a way to produce work independently, without a client. It gave us media attention and allowed the brand to establish itself. Through the process we also learnt a lot about architectural material systems, so it was a really nice research tool. We still manufacture furniture and lighting and use our architecture projects as a catalyst to design new products and solutions.
Urbis: How do you decide on a particular material palette in your residential projects?
We're interested in paring back the construction methodology to the most basic elements. So, with Sawmill House, we looked at how we could use reclaimed concrete en masse to create a skin, and with Five Yards, we looked at what other high-performance construction methodology is on the market and how to best use that in its raw form. We decided on using SIPS (Structurally Insulated Panel System) for most of the ceiling and walls in Five Yards and just leaving it exposed and painting it black. The timber lining was short-length timber boards (known as 'shoulder packs') we picked up from a demolition place for a really good price.
Urbis: Were there any challenges involved in the Five Yards project?
Trying to achieve that house on a very tight budget was a challenge, but at the same time this generated a whole other line of investigation. I think everyone in the practice learned something from that project. Trying to build in a new construction methodology within quite a traditional building environment like Tasmania was difficult. But we ended up finding a great contractor who was interested in progressing the construction industry, which was really beneficial to everyone involved.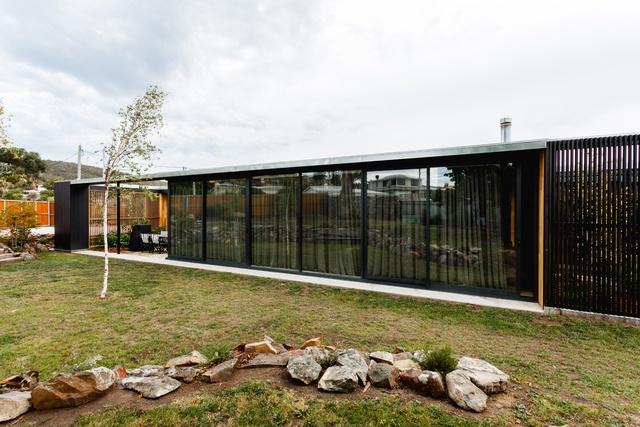 Urbis: Five Yards responds so effectively to its environmental context. Is this something you aim to achieve in all your residential work?
Absolutely. With Five Yards it was about figuring out how to live in the landscape rather than on it. So we designed a plan that twisted into the landscape and also framed sections of it, highlighting different elements of the natural environment. We strengthened the boundary between inside and outside in a way that more thoroughly connects the client to the outdoors. The whole house is only 100m2; it's tiny, but it feels massive because the black exterior functions as a frame that takes in bites of the garden and pulls them inside.
More recently, we've been working with a company called Hux, which specialises in advanced building monitoring systems. Rather than creating design models on the computer and saying this is how it needs to be built, Hux goes into our buildings post-occupancy and monitors them over a period of time. From the resulting empirical data, we're learning how to design more environmentally efficient buildings.
Urbis: What has been a practice highlight to date?
A highlight was winning a Residential Architecture – Houses (New) award at last year's Victorian Architecture Awards for Sawmill House. And then for that to be followed up by a National Award was quite a shock, but really rewarding.
Urbis: What drives your design process?
We're driven by an environmental aspect and also by being able to design something that can get built to the client's budget. At the moment Josh, Chris and I are investing a lot of energy into building in models that are connected to live costing spreadsheets in order to make sure what we're drawing is going to come in on budget and is deliverable within the timeframe. We're interested in designing quality architecture for a reasonable sum of money; you don't need to spend close to $1m, you should be able to build a nice family home for $400,000 to $500,000. To do that we need to have a good understanding of cost throughout the process, so we've become really systems focused.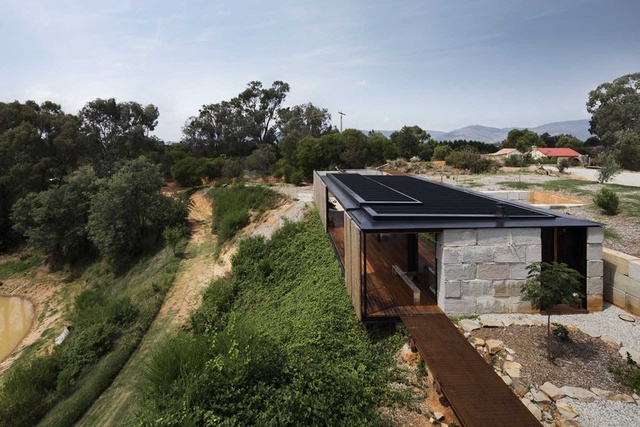 Urbis: Have you made any other changes in the way you work?
We've definitely become more focused on material efficiency. Sawmill House planted that seed with the use of concrete blocks and it's been about narrowing down the research in order to create a better result. Big global companies always say the most important thing in your work is to feel like you're making a difference, so we're really trying to harness that concept by asking how do we make the best architecture for sensible amounts of money.
Urbis: Are there any architects, designers or style periods you draw inspiration from? 
Definitely the Case Study Houses, but more recently, there are so many young architects working in Australia who are doing such fantastic work. We're really inspired by the Director of MAKE Architecture Mel Bright and Clare Cousins from Clare Cousins Architects. We've caught up with them a few times; they've both been really great mentors to myself, Josh and Chris.
Urbis: What are you working on now?
We've got 12 residential projects going to ground this year, most of them utilising SIPS and CLT (Cross Laminated Timber). We're also working collaboratively on another project with Harrison and White Architects, but all up we've got 35 projects on at the moment – which is quite a lot!