Each year, Sydney's iconic waterfront is turned into a kaleidoscope of light, sound and motion. Auckland-based Angus Muir Design exhibited four installations at Vivid Sydney 2016.
"It's our fourth time there," says Muir, from Auckland-based Angus Muir Design, "and a lot has changed. The first time – in 2012 – I was a student, and building the installation in a hotel room. Now, this is what I do. It's my business."
When creating his public art, Muir doesn't restrict his palette to lighting, and his large-scale installations have reached audiences across the globe.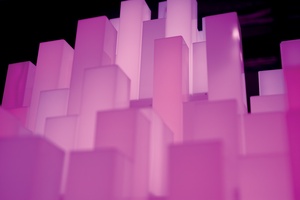 Water Fun, a series of buoyant, illuminated spheres, was installed at different times in Amsterdam, and Norrköping Sweden. Closer to home, those who attended the Waiheke Arts Walk, Luma Queenstown, or Splore Festival would have seen the mirrored posts of Fields Apart at each event.
"We try to be sustainable," Muir explains, "and we build our installations really well, so if something can be used again – either in its entirety, or as an element within a different composition, I see that as a positive. While our projects are very closely related to the site, that's not to say they can't travel or there's only one site where they can be."
Winter nights are well-suited for special events like Vivid Sydney or Wellington Lux, but it's safe to say early sunsets and long, cold evenings lose their charm after a few months. We asked Muir is there was a way to bring the vibrant warmth of his displays into our home.
Muir laughs, "Maybe subconsciously. At the Luma Festival in Queenstown we used warm-white lightbulbs. You see, I've got a lot of experience working in theatre, and at events like New Zealand Fashion Week, so I do appreciate the qualities that different light brings. Whether you choose a warm white or a cool white can have a big impact on space."