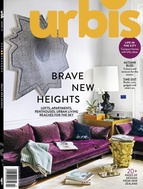 April 2017 (Issue 97)

Ferrari's Dieter Knechtel is numero uno in the Asia-Pacific and Middle East regions. But when it comes to engines, 12 is his number. Andrew Kerr caught up with him for a quick-fire Q&A.

Apartment developers Josephine and John Love share some of the objects that make them feel at home.

Building Community: New Apartment Architecture is a visually arresting book with a poignant and timely theme. Vanessa Coxhead spoke to its author Michael Webb about what makes a great apartment building.