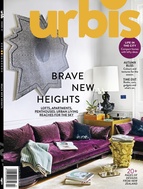 April 2017 (Issue 97)

Some of Te Papa's treasures can now be licensed by designers to create anything from wrapping paper to fabric prints, wallpaper and historically-rich homeware products.

Resident has released a new collection of furniture and lighting entitled Dark Matter.

This sophisticated, nine-storey inn was designed by Jaime Hayon as a contemporary take on classic Spanish motifs.

Building Community: New Apartment Architecture is a visually arresting book with a poignant and timely theme. Vanessa Coxhead spoke to its author Michael Webb about what makes a great apartment building.

A neighbourhood is being reborn in the heart of Auckland's city fringe. Currently in its second stage of development, SKHY is located on the corner of Symonds Street and Khyber Pass (hence its name) on an elevated site that is within walking distance of all the main centres.

An apartment for a creative couple – an opera director and a film director – offers up drama and grand gestures mixed with subtle and delicate moments.