Although under renovation, there are no paint chips or scaffolding able to hide the fact that this East London home belongs to a pair of committed design lovers.
Among the novels, biographies and books of rock-and-roll lyrics in Tim Rundle and his partner, Lauren van Uden's, library, "there are some pretty nerdy design books," says Rundle.
A Taxonomy of Office Chairs (by Jonathan Olivares) is – one must admit – a fairly strong case in point.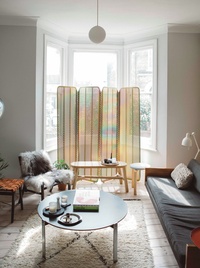 The passion is to be expected. The couple met while studying industrial design at Victoria University of Wellington and, since moving to London eight years ago, they have held impressive roles in the competitive world of design there. Rundle has been head of design at Tom Dixon, and director at Conran and Partners (the multidisciplinary design studio founded by Sir Terence Conran). He currently runs his own practice and tutors at the prestigious Royal College of Art. Van Uden has been involved in significant transport design projects – including the redevelopment of two major tube stations.
Rundle: "When I first set foot in London, the thing that struck me was the permanence of the buildings. In New Zealand, everything is weatherboard, timber construction and Gib. [Once] I went to an art gallery in Austria and I grabbed the door handle and thought 'wow… this is a massive piece of heavy brass…'. That's when it struck me… all these things have been here for so much longer than any buildings I have ever experienced," he says, alluding to the importance and longevity of good design.
"My first time in Copenhagen and hanging around in friends' apartments, I noticed everyone had pieces from design classics. It's not because they are design aficionados, but because there was a culture of understanding the quality of objects."
Their own home is a typical Victorian terrace from around 1900, which they bought two years ago. The house-hunting process gave the couple a great insight into the differences between the abodes in New Zealand and those of their adoptive country. "The main difference is age. A 100-year-old house is fairly standard and so are all the issues that come along with that."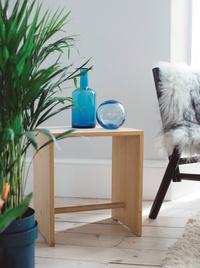 Local idiosyncrasies included unexpected layouts (some of the houses they saw had staircases rupturing through the living room), proximity to the neighbours, and copious fireplaces. "We have six of them – three of which have the original cast iron surrounds in place."
The renovation process will see the couple open the kitchen out onto the garden and transform the former into a sort of experimental space where they can test their kitchen design ideas. 
Their current favourite space in the house is the living room, with its huge bay window at one end and French doors at the other, which makes for a really bright space. "We have accentuated the natural light, even in the shorter winter days, by painstakingly sanding and whitewashing the original Victorian pine floorboards and painting the walls an almost-white grey," says Rundle.
The couple have set themselves a rule of maintaining any original, period features while "anything else will be much more pared back and linear, which we hope will make for a pleasing contrast".
In terms of interiors, their taste is simple and reduced without being austere (Rundle's own words). A rug from Atlas, Morocco, shares space with Dieter Rams' classic Vitsoe 606 shelving. Rundle continues: "Much of what we have in the house is a combination of things we've collected travelling, prototypes or samples from some of my projects, as well as a few classics we have either saved up for or chanced upon."