Renowed interior designer and curator Nina Yashar of Nilufar Gallery has been working alongside Shalini Misra and Mehves Ariburnu on the fifth iteration of SQUAT, a new exhibition concept that combines design, art and architecture.
Rufus Knight caught up with them about the exhibition and design techniques.
Rufus Knight: What are your memories of your birthplace Tehran? 
Nina Yashar: I do remember that in the 1960s, Tehran experienced a moment of great splendour. It was the time of the Shah. Unfortunately, there was great social inequality: on one side the rich, on the other extreme poverty. I have a distant memory of big houses, gold-plated taps: ostentatious and magnificent things. 
RK: Rug-making is one of the most primitive forms of narrative design but also one of the most ornate and descriptive – how does this influence your outlook on contemporary work?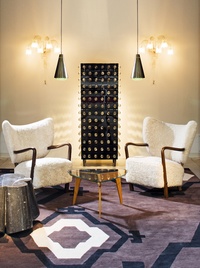 NY: My love for carpets, with their intricate textures and various designs, was born very early on and has always influenced my taste. In fact, my father was a carpet dealer, and my very first exhibition was called La Rosa nel Tappeto: a study of the rose motif in carpets from different countries. The carpet is a fundamental element on which I place the furnishing; a virtual room without walls, it delimits space. Every exhibition I curate features some form of carpet. 
RK: The market is now flooded with 'vintage' objects and ephemera – what is it that keeps Italian mid-century masters like Carlo Mollino, Franco Albini, Gio Ponti relevant and inspiring? 
NY: Masters from the past managed to create beautiful yet very functional iconic pieces that will continue to influence the design world. 
RK: Do you see similar qualities in the more recent work from the likes of Martino Gamper, Bethan Laura Wood, and Studio Dimore?  
NY: In my opinion, Martino Gamper and Bethan Laura Wood approach design with a deep technical and cultural knowledge. They take care of the project, not only from the aesthetic point of view. 
RK: What is it about the dialogue you create by pairing old and new, or local and exotic, that excites you the most? 
NY: I see the dialogue I create between vintage and contemporary as a musical composition: I always try to combine different pieces in a conversation to create my personal language, and the final result is always different from the previous one. 
RK: Why was Swedish craft like Måås Fjetterström or Scandinavian design like Aalto or Wegner so appealing to you in your early career?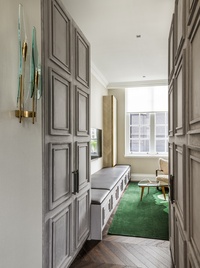 NY: In 1998, I organized Swedish Rugs and Scandinavian Furniture, my first exhibition with a combination of furniture and carpets. There was Scandinavian furniture from the 1930s to the 1960s by Alvar Aalto, Hans Wegner and Arne Jacobsen. It was a great success. At the time Scandinavian design wasn't very popular – it was a novelty, and I was fascinated by that. I decided to bet on this little-known movement, and I didn't regret it. On this occasion I discovered a passion for early-modern and contemporary furniture that I am still pursuing. 
RK: You have said your selection is 'wide but severe' – when do you feel disconnected to a work? 
NY: When the designer pays more attention to the process of making and less to the final piece. 
RK: How important is context for the appreciation of a work? Can this be influenced or changed when mixing styles and eras? 
NY: Context is fundamental; in fact I like to show objects and furniture in a series of rooms because I love to let people dream, thinking that any room could be a portion of their home. In projects like SQUAT I can transform an empty space filling it with my pieces from different geographical areas and create a synergy between them. This is my final vision. I like that people can consider the objects related to their real life. 
RK: You have said your 'great love is buying' and it seems you act as a mirror between the work and buyer, reflecting the best qualities of both – what kind of people are attracted to your collection?  
NY: Nilufar's client is able to read and appreciate the intrinsic artistic value of a piece as well as respect and understand its functional side. The ideal client is open-minded towards those perspectives that compare different traditions and experiences. The ideal client is not tied to any preconception about the design world. 
RK: You said the 2015 'Depot' for Salone was among your greatest achievements – what made this installation so important to you? 
NY: In 2015 I opened the Nilufar Depot, a huge space to display almost the entire collection I have put together over the years, to make sure that every single piece was emphasised in the appropriate space. Together with Mr. Massimiliano Locatelli, I developed an architectural scheme inspired by Teatro Alla Scala in Milan: big modules are arranged and set up as if they were part of a scenography, based on a great selection of historical pieces that form a dialogue with contemporary objects. We dreamt of a location that could be a constantly animated scene, where we could experiment new installations and different sets. 
RK: What is the first thing that pops into your mind when you hear the words "New Zealand design"?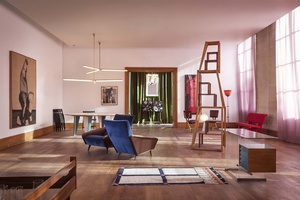 NY: I think designers from New Zealand are very lucky to have such marvellous and various landscapes to take inspiration from. 
RK: The 'crossings' catalogues have been described as 'a kind of alphabet for a new language' – what sort of insights to your own vision did you gain from putting these publications together?  
NY: The Crossing catalogues are a sort of manifesto of my work as a gallery manager: I choose things based on intuition, on instinct. The pieces need to be original, creative and functional – this is fundamental – and they should also be unique. 
RK: SQUAT has been described as the 'artistic occupation' of a space – what kind of atmosphere did you create with this latest exhibition? 
NY: SQUAT explores a new concept of exhibition that combines design, art and architecture. Interdisciplinary and eclectic. SQUAT is a fictional, private living space that challenges the exhibitor to question the status of the objects in display and push the viewer to read art and design in different ways. 
RK: Do you have any rules for how SQUAT exhibitions are composed? 
NY: I like to create continual conversation and synergy between objects and people who have to feel like they inhabit that space. I delight in creating visions, atypical conversations between pieces of furniture. I like things that clash. I don't follow a precise formula. 
RK: What makes SQUAT 2016 distinctive – which artists, architects, and designers have you collaborated with? 
NY: To launch this first ever London edition I teamed up with Shalini Misra and Mehves Ariburnu, Director and Creative Advisor at Shalini Misra Ltd respectively. There are historic works by design masters such as Gio Ponti and Ico Parisi and creations by leading contemporary designers and young talents, such as Patricia Urquiola, Martino Gamper and Bethan Laura Wood.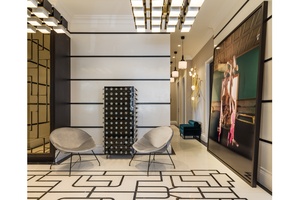 RK: Shalini, why did you choose this property on South Audley Street, Mayfair for SQUAT 2016? Tell us more about the apartment. 
Shalini Misra: Mayfair is a magnet for collectors with a taste for original design concepts; residents are always looking to explore new innovative spaces, finishes and pieces.  
Mayfair is abundant in renovations at present, with so many commercial buildings being converted back into residential homes. SQUAT London is a place where visitors can explore the possibilities and take inspiration from what can be achieved through property development and interior design.
The South Audley Street apartment is a contemporary luxe 2,355 square foot apartment in the heart of Mayfair. This spacious 3 bedroom apartment is a stone's throw from Mount Street Gardens, Hyde Park and the most sought after restaurants, boutiques and galleries in London. The apartment is on the first floor of one of the period-feature enriched, terracotta Victorian buildings which give Mayfair its distinct historic character. 
The design respects original features, with fireplaces and cornices retained, and has been updated to the comforts of modern life. One of the guiding principles is pared-back elegance. The specification of every area of the property is of the highest quality, with each element bespoke designed. 
RK: Mehves, what is the criterion used to select the pieces of art displayed at SQUAT 2016? Tell us more about the artworks. 
Mehves Ariburnu: We mostly see works of art inside museums or gallery exhibitions, in abstract settings where they seem distant and unattainable. Museums and galleries are where art is made public and this is absolutely necessary, but something very different happens when art enters your home and when you start living with it. A barrier is breached when an art collection inhabits a domestic setting, a living environment alongside everyday design items.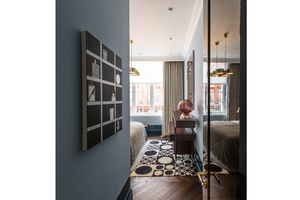 I believe that works of art speak strongly in interior settings; their power to permeate our minds and senses grows stronger. A contagion happens between architecture, furniture, design items and works of art, they start to highlight each other: the slightest change in lighting, the geometry of spaces, colour contrasts, surfaces of fabrics and materials start to play each other like music when a collection of art inhabits an interior landscape.
This is the experience I wanted to share through the selection of artworks exhibited at SQUAT London, bringing together cutting edge works of contemporary artists with those of modern masters from a wide and diverse geography. How we build and decorate our interior spaces varies immensely across time and geography. The juxtaposition of modern masters with contemporary artists and the geographical expansion of this selection serve to highlight this diversity in the design pieces selected for SQUAT London. My hope is that the sheer aesthetic value and the relationships between these works of art, the cutting edge and historical design pieces and the outstanding architecture have made this exhibition a unique experience.  
SQUAT London is located at Flat 1, 70 South Audley Street, Mayfair, and runs from 7 June to 15 October. Visit the Nilufar Gallery website here.