New Zealand fashion brand Stolen Girlfriends Club recently super-sized their most iconic jewellery pieces – including Death Metal Bracelet and Bow Ring – for an art project, Pretty Vacant.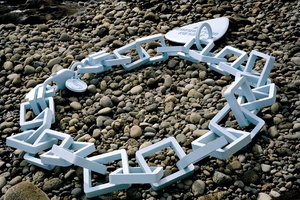 They upscaled the pieces to 80 times their normal size and teamed up with Sydney-based photographer Derek Henderson, who snapped them in various settings on New Zealand's West Coast.
The overblown industrial pieces were first up-scaled in CAD, then laser-cut from polystyrene and hand-painted.
"Jewellery is often overshadowed because it's so small, so taking it and making it 80 times the size, you can't ignore it," says Stolen Girlfriends Club creative director Marc Moore.