Artist Justin Lim is primarily a painter who uses his art to explore local traditions and issues affecting Malaysian culture. Social commentary or "what is happening around us" is the role of art, he suggests. "The work doesn't dictate how audiences should perceive the work but it should raise more questions than it answers."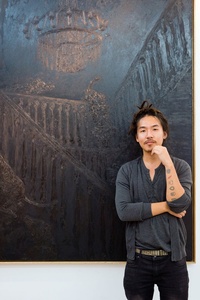 While the subject matter of Lim's paintings is often politically linked, he doesn't see himself as an activist. The works comment on everything from Malaysian censorship and religious laws related to the country's Muslim status to exploring Malaysian ghost myths. These are stories that a grandmother in a rural kampung or village would tell, including the Orang Minyak, a ghost that is human but wants supernatural powers, or the Toyol, a child ghost that steals things.  
His paintings can be colourful and tongue-in-cheek, but his latest work is dark and elusive, using a great deal of black to play with the notion of illusion. "I wanted to purge all colour," he explains. These works were created during the middle of the country's elections, when KL's mass political protests were widely shown in the international media. "It is a commentary about propaganda, transparency and the free and fair electoral process," Lim explains. "At the moment we are in a state of questioning our racial diversity. We are asking: 'how racially integrated are we really?'"
Another hauntingly dark interior scape shows dogs climbing a staircase: "The dogs are almost climbing the stairs but falling down again," he explains, which relates to the political lifestyles of politicians. "It's about class and wealth and, also, the world of art collecting."
 Lim's early influences were comic books and graphic art, which led to studies at Lasalle College of the Arts in Singapore. He graduated in 2006, then moved back to KL and started a residency with Hijjas Kasturi, considered the "father of Malaysian architecture", followed by residencies in different countries. 
This year, Lim will exhibit his paintings at contemporary art fairs in Singapore and Hong Kong, and he hopes to do a residency in Hobart, Tasmania.