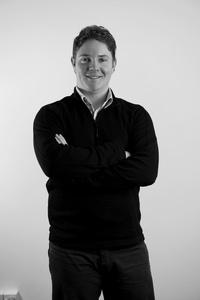 The thrill of standing in I.M. Pei's glass and metal pyramid – immersed in the tectonics of its modernist construction as he gazed out at the grandeur of the Louvre Palace – turned a 14-year-old Joseph Hampton on to the spatial wonders of architecture. 
Many a teenager would have dawdled grumpily after their parents on a wide-ranging tour of Europe's greatest buildings – but Hampton was inspired. "I'll never forget the way being in St Peter's Basilica made me feel, or the impact of the beautiful Neuschwanstein Castle so strong within the mountainous terrain of Bavaria."  
Until then, it's fair to say, the closest Hampton came to an interest in architecture was building free-form with his Lego blocks. But sketching an elevation of his aunt and uncle's Trengrove-designed farmstead – "and making a reasonable shot of it" – should have been a clue.  
These days, the Victoria University graduate has his feet under the desk at Warren and Mahoney's Christchurch studio. It's a varied role that offers him "a good opportunity to engage with many different typologies" and has earned him several accolades including a 2016 Canterbury branch award from the NZIA for the design of a house amidst the remote grasslands of Conway Flat, on the Canterbury coast.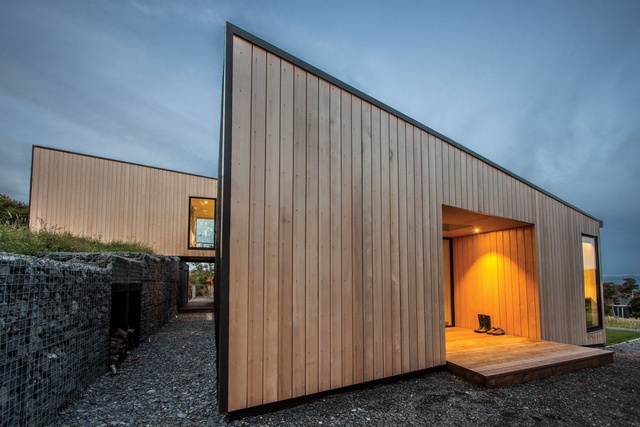 Working in the environment of a multi-disciplinary firm with responsibility for a good share of the post-earthquake rebuild has provided stimulation. However, Hampton says that the learnings from his first project, finished during his final year of study, have become a 'working template' for his approach to every design that has followed.
A town clock in Kaikoura may seem an unlikely launching point for an architectural career. It's not. The same skills used to interpret a brief, cooperate with multiple stakeholders and team historical and cultural references with timeless aesthetics translate readily into commercial offices, civic buildings and homes that Hampton designs today. The clock's triangular design, with three faces that represent the past, present and future, has become a much-loved focal point for the community. Collaborating with the local rūnanga on the project left a lasting impression. "It reinforced my interest in researching a site's history to understand how our unique culture can inform the future."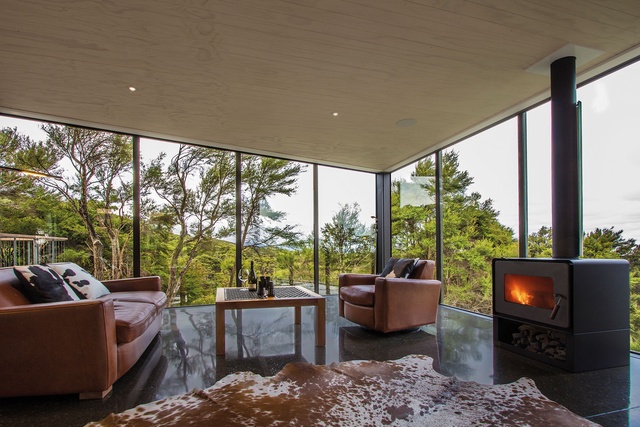 His most recent projects were poles apart – a steel and glass multi-level building for Warren and Mahoney's new offices on Montreal Street and two houses at Conway Flat, a landscape the architect describes as "beautiful rolling hills dotted with big fat Angus cows". Here, the rural vernacular is matter-of-fact, with a no-nonsense approach that is reflective of the endemic farming culture. The client, with typical candour, was specific in his brief: "No mega mansions". Instead, he asked for a series of rural sheds and two distinct homes – one to be used as a country lodge for entertaining, the other, smaller one, as an everyday family retreat.
"Immediately we knew that two divergent languages were required," says Hampton. They are cheekily named The Common House and The Bolt Hole. In the first dwelling, a series of crisp pavilions, cloaked in dark-profiled metal and set in a Manuka grove, recede into the canopy when seen from a distance. In contrast, The Bolt Hole, with its weathering yellow-cedar cladding, has a vivid sculptural presence in the environment. This is architecture that does not start at the threshold: "The journey in, the arrival, is such a fundamental part of the experience."
The property once belonged to Second World War hero Sir Charles Upham VC, so it was important to respect this heritage. The Common House incorporates the existing living space of Upham's cottage that was reshaped into a library and guest bedroom.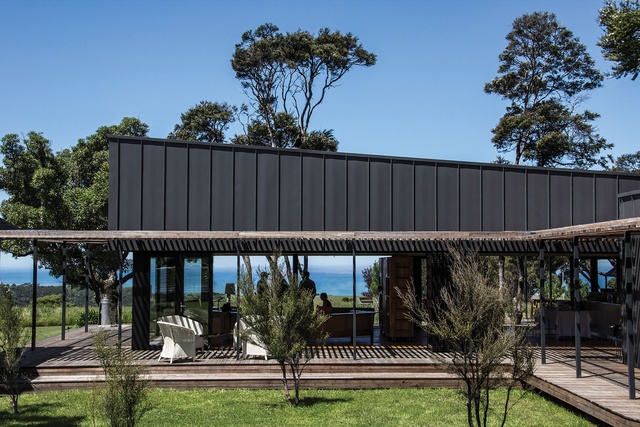 Hampton says his interest in historical and cultural references is because thinking about these things adds "another layer" to the architecture produced. It's no different to his focus on sustainability. "Such considerations help to unlock a new form of architecture because you're not just thinking about structure and aesthetics, but also about how it performs in response to its environment."
Hampton's paternal grandfather, who died before they could meet, was an interior architect; so, indeed, perhaps he does possess the right genes for this profession. Having returned to Christchurch in 2007, the place where he was born, he is optimistic about the future of the Garden City. "Slowly but surely, its heart is re-emerging. I hope it transcends a purely commercial centre. A city needs people living within it. More inner-city residential development will really unlock its energy."