Urbis: What is it about the luggage project that convinced you to join forces with Louis Vuitton? 
Marc Newson (MN): I suppose what tempted me was the challenge of designing a great piece – and, consequently, a range – but primarily a great piece of luggage. Like so many people, I travel a lot, and I feel that I am in many ways uniquely placed to be able to do that as a consumer – even more than as a designer, actually. 
Urbis: How do you approach a brief like this and what is your design process?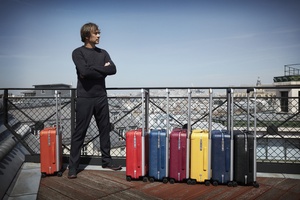 MN: The brief for the project was fairly open: it was to design, or redesign, primarily carry-on luggage in a way that was meaningful to the contemporary traveller. It wasn't meant to speak only to Louis Vuitton clients and fans: it is intended to be an object or a series of objects that may appeal to people who don't necessarily have any previous sort of connection to the brand; those who will be attracted to the range not only because of how it looks, but how the pieces function. Functionality was all-important, and that involves considering weight, robustness, volume, the actual usable capacity of the internal dimensions and how consumers interact with the product.  
Urbis: What were the challenges behind the creative process? 
MN: The challenges are very much the same, no matter the product. It's really about coming to some degree of commonality between what you envisage the object is going to look like and what's really achievable given all of the parameters you're working with. The parameters aren't just physical; they're also cultural. But slowly, over time, you gradually refine those two sets of criteria to the point where they hopefully merge and you end up with a product that does all of the things that you hoped and imagined it was going to do. That process can take years. 
Urbis: Were there any limitations to the design?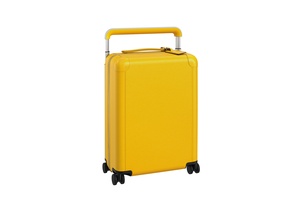 MN: In many ways design is about limitation; design is about compromise. But rather than looking at those two words as being negative, I always try to think of them as positive. For me, compromise often leads to innovation; it forces you to look for solutions where you wouldn't look otherwise. If you could just do anything that you wanted to do, you wouldn't end up where you do. To a large extent design is also about failure. Dealing with failure means having a contingency plan, and there's always the possibility that the contingency will actually exceed the first idea. 
Urbis: How does this luggage relate to your vision of travelling? 
MN: It relates to my vision of travelling in a very pragmatic way. I want something that works really well. And for it to work really well it needs to provide me with a variety of seamless possibilities. It needs to be lightweight; it needs to offer me the best possible sort of accommodation for all of the things that I'm trying to transport. 
Urbis: What is real luxury for you? 
MN: That's is a very tough thing to define. For me, real luxury has to do with quality and longevity. I love the idea of designing a product that is made as well as it can possibly be made, and will last for as long as it can possibly last.