Inside story: Ross McCormack
McCormack's home life is serenaded by the hum of nearby cars traversing the Northern Motorway. His small, cabin-like house on the lower end of Auckland's Herne Bay is perched just above the mechanical river of vehicles and a horizon of moored yachts bobbing in the Westhaven Marina.
"My partner and I were looking at inner-city apartments," says McCormack, who recently returned from Belgium after spending more than a decade as a professional dancer there. "We were after something spacious, easy, minimal but when I saw this I realised how this is much more like my life on the road in Europe."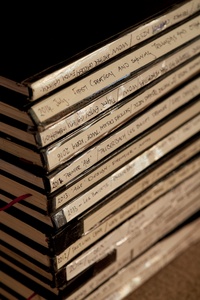 The constant movement is possibly an apt descriptor for his newly abandoned life as a dancing nomad. As expected, his possessions are few and selective. Books by famous friends and acquaintances (mostly visual artists), mementoes from his travels and paraphernalia from his other passion – fishing – all populate this "workshop-like lounge", which he uses as a social space and where he prototypes props, makes paintings for friends and the like.
McCormack – who began his career with a brief stint as a builder and who often designs the stages for his work – insists that his fascination at present is with how the built environment affects the body. 
"This is a huge thing for me at the moment: how the environment affects the dance and the end result of my work." He explains how in his profession the sets and scenography are often built after the choreography… "I am a bit bored with that," he says. "I really want, from the first day really, large components that the body has to negotiate."
This has translated into the usage of fake stones in the upcoming New Zealand Dance Company season of The Absurdity of Humanity (which he co-created) and is likely to zip through into his work as lead choreographer for the World of Wearable Arts.