In between designing costumes for top Hollywood productions like The Great Gatsby and Moulin Rouge, Oscar-winning Catherine Martin recently released her own textile design collection. She talks to Camille Khouri about her work and passions.
How did you come into textile design?
I've always loved fabric. From my earliest memories I always wanted to sew on my mother's sewing machine. She taught me to sew when I was six years old. I love the fact that fabric has such diverse qualities. I often think that this interest in fabric has been a great asset to my career. I understand how fabric works and enjoy learning each textile's unique properties and also its diverse manufacturing processes. 
Does your work in production, costume and interior design merge? Or do you see them as separate entities? How do you approach each differently?
I see both costume and production design as aids to telling stories. My job is to help the director and actors to tell the exact story they want to. Production design illustrates and makes clear both the environments and the contexts in which they want to set their stories. Costumes work to express the character that both the director and actors are making. Both are story-making tools, but the techniques you apply to them are different. That being said, they are one in the same, as they are both a means of translating ideas into a visual narrative. This is partly what I do when I am designing for interiors as well; I start my process with an attempt to tell a specific story. 
Which field do you prefer to design for: fashion or interiors?
I enjoy all aspects of design; I enjoy the problem-solving challenge. I have actually never designed fabrics for a fashion application. I've always designed textiles for an interior application. I've designed fabric for use in movies as part of the costume storytelling process. My experience in terms of creating textiles from scratch has really been in the interiors world. 
Paradiso is your third collection for Mokum. How does it differ from your previous collections?
I think every new collection brings new knowledge and a greater technical sophistication, as well as a more adventurous attitude. As your technical skills improve, your understanding of the manufacturing of the textiles improves and you are willing to take risks and understand how the risks might impact the final product. 
The collection differs fundamentally because it is an indoor/outdoor fabric collection. This means that the fabric itself has to be able to withstand the elements. I am somebody who is naturally inclined towards natural fibres, so with this I had the opportunity to work with materials that outperform them in very strenuous conditions; fibres that are within my natural comfort zone.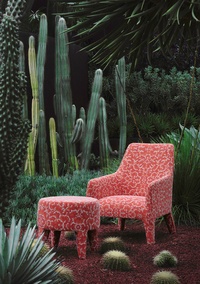 Do you feel your style develops with each collection?
I don't know whether my style develops with each collection, but I would hope that there is a new perspective with each collection as we explore new fibres, methods of manufacturing, and applications. These often relate to my life – a place I am in, a movie I'm working on etc. All of those things influence my perspective when designing a collection. 
You have worked extensively with the movie and television industry. What does this work involve?
It's very much that of a storyteller's aid. I am very much trying to help illuminate the story by illustrating important character or environmental points that are necessary for the story to be clear to the audience. 
Do you feel working with Hollywood has had a major influence on your style?
I think exposure to any type of milieu outside of your comfort zone, whether that is going to the middle of the Gobi desert or visiting Hollywood, obviously broadens your horizons and exposes you to people, places and influences that I would not have had access to had I continued living in Lindfield on the North Shore of Australia. I am grateful for all of my disparate experiences, including my brush with Hollywood. 
The patterns in the Helios design call upon some ancient sun motifs and Flamingo features flamingos and pineapples. Do you carry out a lot of research in your pattern designs?
When designing a collection I go back to the kind of constant research I do of collecting images of all kinds. This fabric collection, because of its focus on the outdoors, had me looking at a number of classic motifs that, on the one hand, paid homage to the great outdoors and the tropics and, on the other, the glamour of the late 1940s Miami. Over the past few years I've been working on a hotel called Faena in Miami, and was drawn to the sense of humour and the kitschiness of that time, which really played into the design of this collection. 
Does history also play a part in your collections?
It always plays a very important part in all the work I do. This is because I think that everybody comes from somewhere and everybody comes with certain cultural references and sensibility. Historical references give, I feel, your work much more depth.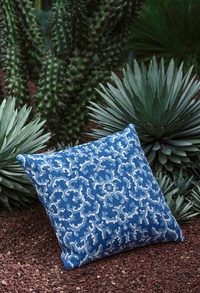 How do you come up with a theme for your collections?
The theme for each of the collections has been a process of evolution and is usually relatively organic and sparked by a research journey. 
Do you design specifically for a finished product (i.e. a chair), or does the pattern come first?
I think the two work hand-in-hand. You come up with a pattern and the ultimate use of that pattern will organically reveal itself, and then you need to deal with adjusting that pattern to fit its specific application. In upholstery there are a few more constraints as you have to consider, for example, the back of a chair when considering the pattern – whereas in the drapery the scale can be very large. 
What would be your dream commission/collaboration?
I think the collaboration I have with my husband, Baz Luhrmann, is a dream and possibly sometimes (when arguing!) a nightmare. But ultimately I am convinced that it is the journey that I've been meant to take in my life and I'm very grateful to be able to feel that I am doing what I'm meant to do. 
For more information on the Paradiso collection from Catherine Martin by Mokum, visit www.mokumtextiles.com.