Surrounded by woodland, just outside Udine in north-eastern Italy, is the family home of Patrizia Moroso, creative director of her family's eponymous company and one of the most influential names in contemporary furniture. 
Known for her warm relationships with top international designers, Moroso's closest collaborator (and friend) is Spanish architect-designer Patricia Urquiola – and that's who Moroso called upon to design her home. 
"I already liked her product design," Moroso explains, "and as women, I thought we would have an understanding during the process; I felt I could easily talk to Patricia about my ideas."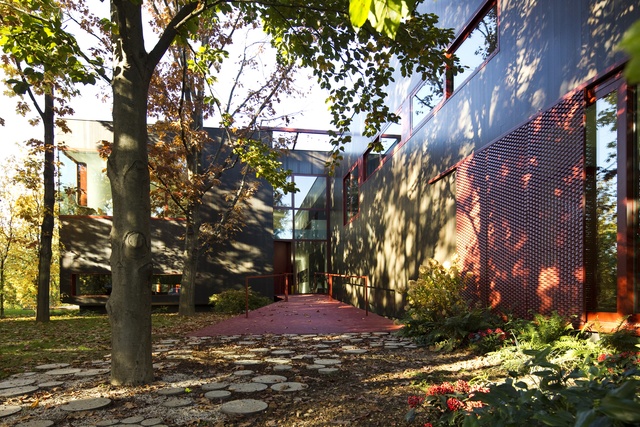 The aspects and delineations of close connections – personal and professional; public and private; home and business; interior and exterior – are at play throughout the home. While largely the result of Moroso and Urquiola's affinity, a masculine influence was brought from Moroso's husband, Senegalese artist and designer Abdou Salam Gaye, and Urquiola's then-business partner, Italian architect Martino Berghinz.  
Although the cedar cladding and deep-red accents of the exterior makes it almost disappear into its rustic setting, Moroso says the house was planned "from the inside out". She wanted wide windows to flood the interior with natural light and bring the changing seasons into daily view. Loft-like rooms on the lower level have weathered brick and slate-grey walls, and the high ceilings and exposed beams are like those of an industrial space.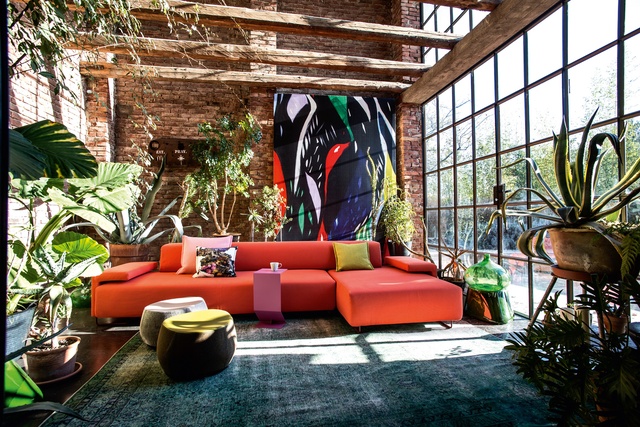 The ground floor was, by intention, designed to serve a professional purpose – a rotating product display, entertaining space and staging area for photo shoots – as well as providing ample room for gatherings of friends and extended family. The upper floor is a private area, dedicated to the immediate family's day-to-day life, with smooth, light-coloured walls and slightly lower ceilings.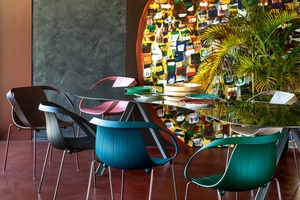 By thoughtfully blending international influences with family heritage, and sentimental choices with refined design, the home exudes a warmth and depth of character that make it an enviable example of contemporary living. 
While Patricia Urquiola's furniture designs predominate, Moroso's eye for composition and colour ensures that the mix stays eclectic and unexpected. Amoeba-like shapes of Toshiyuki Kita's iconic Saruyama Island collection appear in deep shades of blue. The Scandi-modern aesthetic of Alfredo Häberli's chairs adds a slightly industrial edge, which plays nicely with Urquiola's Gentry sofa and Fishbone tables.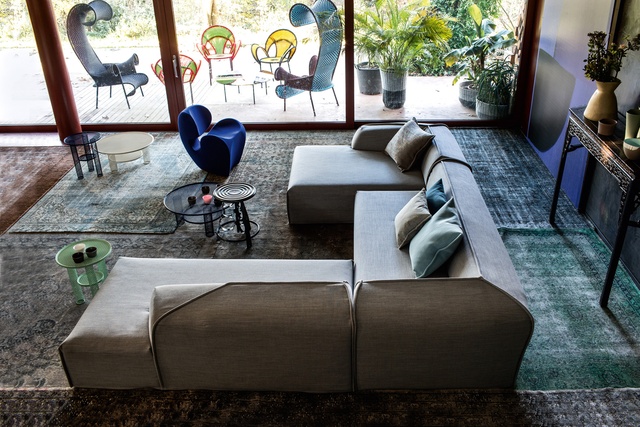 The interior is far more than a pragmatic display of designer furniture, particularly in the family spaces. For Moroso, it's a visual scrapbook.
"Years ago, I purchased a worn carpet… and that was before I ever met the Golran family – Milanese-based Iranians who have been making carpets for four generations. Now, my company distributes all their collections. Of course, there are pieces from my history, and from my husband's. There are prototypes of many designs; some are one-of-a-kind. The chairs in the dining room, may have had to go to waste perhaps, because they are flawed; but ultimately it is what makes their charm, so I kept them for myself. Every object here has a story that is part of my memory."