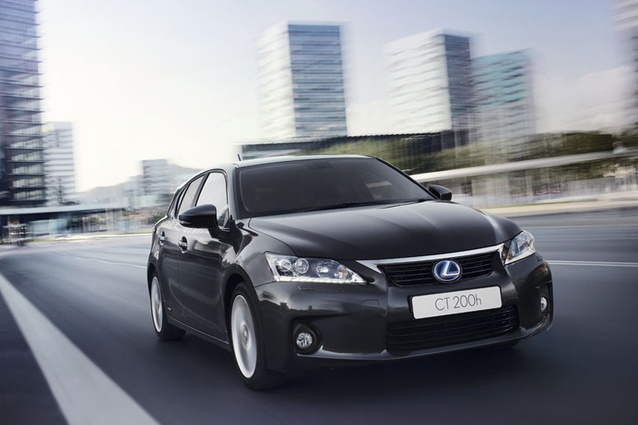 The real beauty of the new CT200h is that it lets you fully embrace the eco-car philosophy without broadcasting your intent. This is a sophisticated alternative to the streamlined hedgehogs that some are determined to be seen driving. But while it looks and feels sporty on the road, performance is not a CT200h strongpoint.
Several hybrid Lexus models have already been sold locally but this is the first to contest the luxury compact class. In its crosshairs are the BMW 1-Series and Audi A3.
The CT runs a proven parallel hybrid system through a CVT automatic. So it can run solely on electric power, petrol power or on a combination of the two. In any case, the powertrain is quite 'normal' in operation and it switches power delivery without the faintest hesitation.
Driving in EV mode is silent and supremely relaxing. In fact, you wish the Hoover-like 1.8-litre petrol engine would never interrupt. But it inevitably does. Power from the nickel-metal-hydride battery pack only lasts for 2 km at town speeds and it won't push you much past 40 km/h without assistance. Friction from the braking system recharges the batteries so your right
foot is effectively the charger.
Dashboard illumination changes from soothing blue to red when you twist the Drive Mode dial to Sport, and this sharpens throttle response and also provides boost from the electric motor. But the amount of oomph isn't enough to satisfy those expecting a hot hatch.
Styling flourishes include LED running lights with an arrowhead pattern, very muscular rear arches and sweeping curves through the C-pillars. The rear valance notably obscures the exhaust on this 'green' machine.
Best interior bits? The superb front seats followed by the clarity of the driving environment with logical divisions and layers of quality controls on a tall centre console. An 8-inch pop-up colour display sits atop the dash and the high-quality leather and substantial plastics are as good as you'll find in a compact hatchback.