Apartments are often built in a pared-back utilitarian style with stock-standard materials and limited variations in layout and size. But, while all apartments in an apartment building may be born equal (or very near to it), they don't necessarily have to stay that way. This 420m2 Russian apartment, designed by Form Bureau, has a custom-designed size and layout, as well as joinery and furnishings, transforming it from uniform into one of a kind.
The abode is located within a historic part of Moscow that has been transformed into a high-end residential neighbourhood. It is the result of combining three existing apartments into one large enough to accommodate a family of five. "Creating the plan was very much like putting together a puzzle," says architect Polina Dudkina.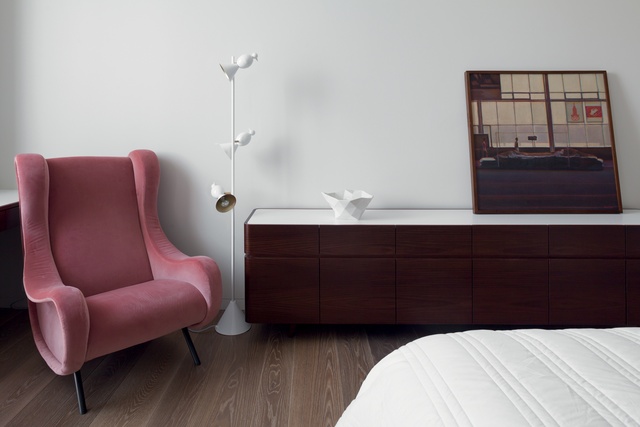 The reconfigured apartment takes advantage of windows on three sides of the building and has public and private zones: four bedrooms, each with a bathroom and walk-in wardrobe, are to one side of the hallway, while the kitchen, combined living and dining area, recreation room, library/music room and small spa reside at the other side of the hallway. 
With the layout finalised, the designers began the process of fitting out and furnishing the apartment to create a space that felt like a family home; a calming, warm and comfortable environment that reflected the individuality of its occupants. To achieve this, Form Bureau designed the joinery and furniture specifically for the apartment, creating pieces that would be valued by the client and bring delight to their everyday living.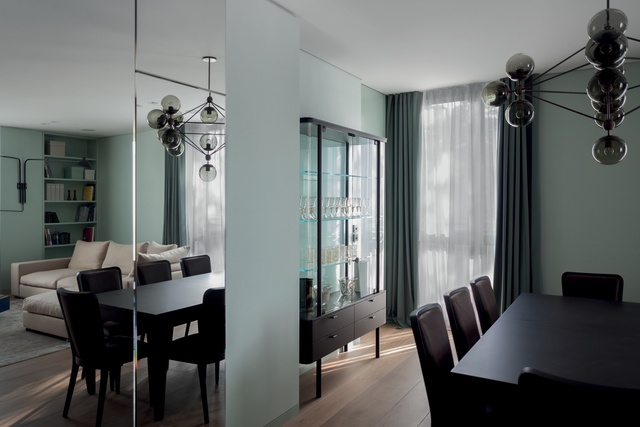 Looking to the work and approach of early 20th-century designers such as Pierre Chareau, Charlotte Perriand, Gilbert Rohde and Jean Royère, Form Bureau created vanity tables, mirrors, writing desks and bookshelves. They referenced the detailing, materials, proportions and combinations of colour and texture used by the pioneering modernists to design elegant free-standing and built-in furniture with an emphasis on luxury, craftsmanship and function.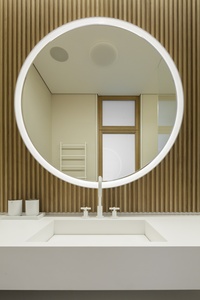 "When something is designed and made with fine, thoughtful details, it gains its own personality and changes the overall tone of a space," Dudkina explains. "There is a deeper relationship with this kind of object as opposed to one that is standardised and mass produced."
A boudoir-like vanity in the master bedroom takes its inspiration from Royère's furniture with a combination of nero portoro marble and bronzed brass complemented with oak. The bronzed brass is echoed in the frame of the mirror, which is reminiscent of Byzantine icon triptychs and softly lit with lights concealed behind fluted glass. 
A vanity in one of the children's bedrooms is a playful and contemporary take on those of the art deco era. Its rounded ends soften the rectilinear geometry of the walk-in wardrobe, the periphery of the circular mirror glows and the oak and white detailing complements the finishes of the room.
In yet another children's room, a custom-designed table extends the full length of the bedroom and dressing room, serving as both desk and vanity, with a fold-up mirror and concealed drawers. Against the opposite wall, a full-height bookshelf has horizontal components that can be moved to customise the shelves of varying sizes.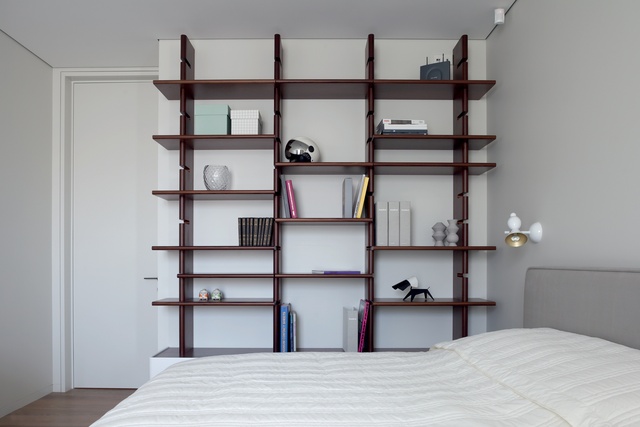 The towering bookcase in Pierre Chareau's Maison de Verre provided the inspiration for the library and music room bookshelf, which combines teak veneer surfaces and metal frames against a backlit wall. "Chareau's use of industrial materials in combination with fine veneers and textiles resulted in a very intricate aesthetic halfway between industrial production and hand craftsmanship," Dudkina says.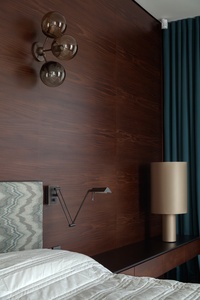 Throughout the apartment, rich walnut panelling and smooth oak joinery is side by side with shades of aquamarine, while mirrors – custom, of course – visually enlarge spaces and break up the rectilinear nature of the rooms. There are striking lighting fixtures in almost every room with the designers' and manufacturers' names reading like a role call of the 21st century's finest: Tom Dixon, Foscarini, Roll & Hill, to name just a few.
And while the style of the chandeliers and wall sconces is contemporary, they are in fact a nostalgic touch, harking back to the traditional lighting fixtures in Soviet apartments of the former USSR. "I think we subconsciously associate them with homeliness," Dudkina explains. 
The attention to detail in this sophisticated and spacious family apartment demonstrates how custom design can transform standardised into personalised, with spaces and objects perfectly suited for the owners' way of life.