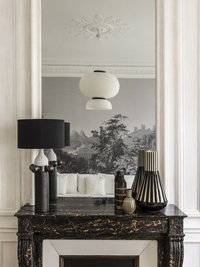 When it comes to interiors, the owner of this Parisian apartment – an American magazine publisher – favours a number of things. She is a fan of stripes ("If I see them, I'm dead. I'll get them every time") and of a black and white palette. "It's a combination that's endlessly chic and timeless," she states. She also has a weakness for Moroccan rugs, believing they immediately make a room more inviting, and advises that you should never decorate a house without incorporating something Italian.
She has a very firm love of Paris too. She was brought up there until the age of 15 ("My father was adventurous and moved us over") and later lived for another 10-year stint in the French capital with her investment banker husband and their three sons. When the couple decided to return to New York, they were determined to maintain a base in Paris and equally intent that it should be centrally located.
"I wanted to be at the very heart of all the city's beauty, which is just ravishing," she explains. Her children, aged between 12 and 18, are delighted by the proximity of the Tuileries Gardens, where they regularly head out to play soccer. She herself adores the nearby Palais Royal. "It's just the most magical place," she enthuses.
The apartment also fits another of their prerequisites – that it be quintessentially French. "When you come here on vacation, you want to walk in the door and immediately say to yourself, 'This is France'," she asserts. It is located in a stately 1830s building that for decades belonged entirely to descendants of the French poet, Paul Valéry, and has all of those highly sought-after Parisian architectural details: marble fireplaces, panelled walls and graceful ceiling mouldings. One of the most exceptional features, however, must surely be the flooring in the two adjacent sitting rooms, whose boards were arranged to create strikingly geometric patterns.
"The floors were clearly meant to be seen," remarks Alireza Razavi, the Iranian-born architect hired to oversee the renovation. "They have character, and the craftsmanship indicates that this is not just any apartment." After decades of the space being rented out, they were not in particularly good condition. "When you walked on them, they would lift up," he remembers. So, he was forced to replace about 30 per cent of them. The internal shutters were also sanded down to reveal their raw wood, and the walls were painted by decorative artist Séverine Lépine with a wash-like effect inspired by the boutiques of Martin Margiela. "It gives a depth and vibration to them," declares Razavi.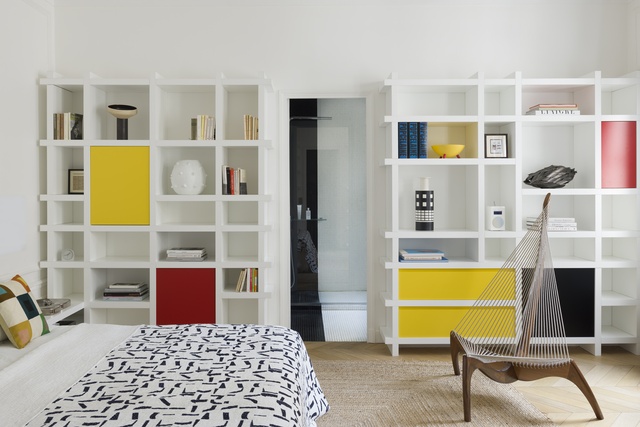 Elsewhere, he also transformed a series of rundown cell-like rooms at the back of the apartment to create an airy master suite with a bold black-and-white-striped bathroom and a storage unit whose red, black and yellow doors were inspired by Mondrian's New York City series. It was, explains Razavi, meant as a nod to the owners' Manhattan links.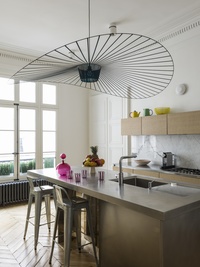 Many of the other furnishings are distinctly Gallic and were chosen directly by the owner with the help of decorator Sylvie Acker. They include a coffee table whose base is made from a tree trunk Acker found in a wood near her family country house outside Paris. "She took me out there to see it and then made me lapin à la moutarde [rabbit with mustard] at her parents' place," recalls the owner. There is also seating by iconic designers like Charlotte Perriand and Jean Prouvé, as well as several dramatic ceiling fixtures.
The kitchen is dominated by Constance Guisset's Vertigo model, while the main sitting room features two Serge Mouille chandeliers, one of which has been jauntily placed off-centre. Another of the owners' favourite sources is the Paris flea market, and it's there that she found the 1950s wicker chairs and the 19th-century, tree-shaped sculpture in the family room. She recalls asking the dealer what the latter's use was. "Madame, it has absolutely no use," came the abrupt reply.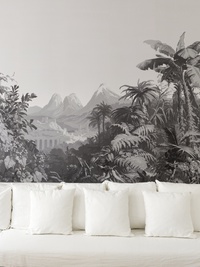 Probably the most striking element in the apartment is the wall covered in a panoramic grisaille paper from Zuber, representing trees, mountains, a castle perched on a hill and a viaduct. For Razavi, it serves as the focal point of the perspective that links the rooms at the front of the apartment together. For the owner, "It immediately gives a soul and elegance that's so French."
'Elegant' is certainly a good word to describe the apartment as a whole, but it also has a bit of a Bohemian vibe. That's partly because the owner deliberately wanted to avoid it being too staid. "The only flaw with the beautiful French aesthetic is that it can [be] fussy," she opines, "and I didn't want that."
As it turns out, hiring Razavi meant there was little chance of that. "He has this absolute love of the old," she continues, "and yet at the same time, he's so sleek and streamlined that it never feel[s] fancy. Working with him was just the most painless process ever."