The riverside enclave of ex-state houses in Hayes Paddock, Hamilton, is a model of classic mid-century New Zealand architecture. But the community has suffered for some time, with its iconic river café – the original corner store of the area – out of action.
Enter Brent and Lisa Quarrie of award-winning central Hamilton café River Kitchen and things are looking up for the heritage-protected locale. Their vision was to create a relaxed neighbourhood eatery with a distinct local flavour. The pair engaged Material Creative to assist with the fit-out, while Area Design's Alan Deere took care of branding for the now aptly named Hayes Common.
The result is an easy yet sophisticated space that references the textures, palette and utilitarian flavour of the neighbourhood. "We wanted to breathe some life into it and reveal its character, but still keep it informal, as a community drop-in location," says Lisa.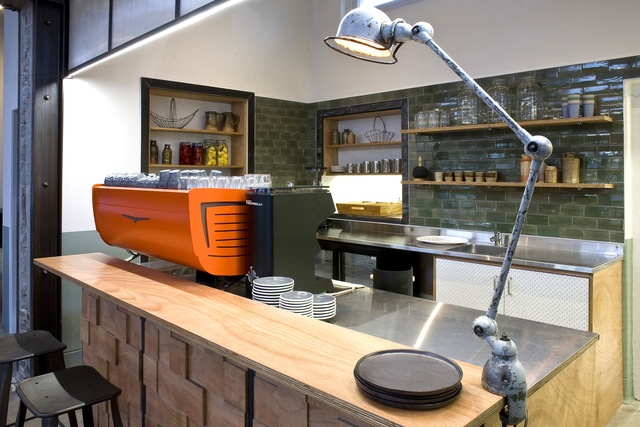 The interior plays into this idea nicely – the muted backdrop of stained-concrete floors and exposed steel and brickwork create an understated canvas for the moss-coloured hand-made wall tiles from Matakana and smoky hand-blown glass pendant lights from Monmouth Glass Studio. Ex-Oktoberfest trestle tables and benches sit alongside mid-century dining chairs from France, all in a palette of retro smoky walnut.
Enhancing the community vibe is the range of share platters on offer, with South East Asian, Middle Eastern and Mediterranean influences. Craft beer from Good George as well as Mahi sauvignon blanc on tap completes the informal dining experience.
"We are the dinner party you want to throw at home – the celebration you want to have with friends, but don't have time for," says Brent.