Urbis Picks: Food and Drink
A round-up of the latest, the most outstanding or plain promising servings in the local culinary scene.
It is always memorable to find new interiors that acknowledge elements from what came before them. We are suitably impressed by Gerome, a new Greek restaurant in the refurbished premises of what used to be Iguaçu in Auckland's Parnell.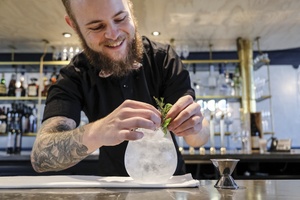 Designed by Paul Izzard, Gerome is rich in textures (the velvety booths are personal faves!) and hat-tippings to the spot's previous occupant. This is evident on the mezzanine – which owner Ramiz Malik calls "a mezzanine on steroids" – where guests are welcomed by gentle wafts of whatever is cooking in the wood-burning BBQ downstairs.
According to Malik: "I wanted to continue the memories of this place for people, but make new memories with my own signature, passion and love. I kept the roofline, the mezzanine… but made it bigger in some places, cosier in others, added a private room and the deck."
Iguaçu's instantly recognisable, street-side fire feature now exists as small gas lamps adorning the entrance. As for the food… it is an entirely new experience. Do try the ribs of harissa-rubbed lamb.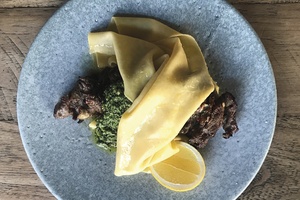 From the restaurateurs who unleashed Odettes Eatery on Auckland's City Works Depot comes Hugo's Bistro.
The eatery (described as "Odettes' older brother" by its co-owner Clare van den Berg) resides on a long and narrow site on upper Shortland Street. Unlike Odette's fresh, teal and light-wood tones, Hugo's uses deeper, darker tones of marble, brass, soft furnishings and vertical panelling.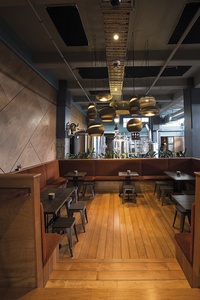 It is a more grown-up environment somewhat inspired by London's hyper chic Chiltern Firehouse. 
Theoretically, conversation pits make perfect sense… a sunken space with a table in the centre and cushy seating on the perimeter forcing everyone inside to be best friends… instantly!
Well, Husk Bar & Eatery in Wellington has delved deep into the '70s and delivered one, just in time for winter.  Add to this the fact that beer rogues Choice Bros brew on site and you have an enticing little spot for a rainy day in the capital.