Imogen Tunnicliffe started life as an artist in the studios of Elam School of Fine Arts, where she mixed her own ink to create prints inspired by everything from Andy Warhol's early drawings to fairy tales. Now, as senior designer at Citta Design, she develops the concepts for the brand's distinctive seasonal collections of homewares.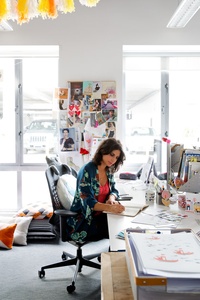 After completing her Master of Fine Arts degree, the 38-year-old spent a few years in London and New York. As a printmaker, her work was heavily influenced by whimsical and fantastical subject matter, which often took the form of dark, 'shadowy' fairy tales. "My own art is always illustrative and detailed. I tackle quite different subject matters in each body of work, but it always has a story to tell," says Tunnicliffe.
When she joined Citta in 2003, Tunnicliffe's work became more commercial in style and, for the first time, applied to objects rather than paper. But the narrative element of her work crossed over into her new medium. "There is always a story behind each collection about a different city or country and its people and that gives it meaning and interest. Instead of just representing a city or country visually, we have our own story to tell and it personalises the process for us and, hopefully, for the customer. Research is a really important part of the process and how a story starts to form," says Tunnicliffe.
Since she started at the Auckland company, Citta's ranges have grown steadily in size, with the summer collection the largest yet at more than 300 different pieces. This summer, the inspiration is Greece. The colour palette, developed by Tunnicliffe, includes soft yellow, classic Mediterranean blues, warm pinks and vibrant geranium red.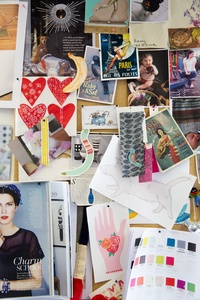 "We tried to reflect classic Greece as well as the modern social fabric," explains the West Auckland resident. "When you think of Greece, you often think of blue and white and olive trees and ruins. But the people are equally important. They are vibrant, open, social people. So it's much brighter and more fun than what you would typically associate with Greece. We included a lot of serveware with hand-painted designs and glassware and ceramics, as eating and socialising are central parts of the theme. The patterns range from simple and nautical, to detailed, intricate and opulent – a nod to the gods – to natural and textured."
In Copenhagen, Denmark, in March this year, where Tunnicliffe visited for the upcoming winter collection, she found herself in a city she describes as something "out of a Hans Christian Andersen fairy tale. It was unseasonably cold. It was spring but the ground was covered in snow and there were spring flowers everywhere as well. I really wanted to bring that aesthetic to the next collection. Then there is that Scandinavian style – clean, modern, contained in a way. So this collection blends these elements; it has a bit of a retro feel to it."
Along with the usual homeware products, the Copenhagen collection, which will be released in February, will include painted wooden objects, patterned shower curtains and wool carpets. But Tunnicliffe has moved on already, to designs for the summer 2014/15 Hanoi collection and the colour palette for winter 2015. In these early stages of a collection's conception, she spends a lot of time drawing. Then she starts her research, developing the stories behind the collections, liaising with graphic designers and the marketing team and coordinating with buyers. Recently, she and the five-strong design team got messy while developing the Hanoi aesthetic.
"We left our desks, brought in potatoes, paints and ink and started creating. It was quite confronting actually because we are so used to being at computers and being able to 'undo' any errors; however, in this case, if we made a mistake, we had to screw up the print and start again. When I started out as an artist, all I ever did was draw and paint, but I found it took me the whole day to get back into the rhythm of it."
These days, Tunnicliffe's printing press sits in the garage of her home, where she lives with her partner and their two children, doing nothing but collecting dust. She hopes to make another body of art with it one day but, for now, she spends her free time at home in the garden. Her house is an eclectic mix of old and new. "I'm quite influenced by my parents' style so there are Persian carpets and old pieces of furniture, but these are mixed with modernist design," she says. "I have product from each collection too. It's definitely not minimal and I like colour!"