Technophile: green gadets, forms of transport and a smart watch
Dean Cornish explores green gadgets, forms of transport and a smart watch with design credentials.
Opcom Farm Growbox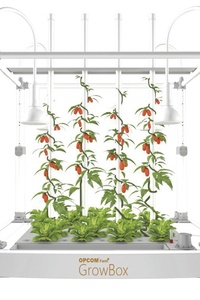 GrowBox is a cool system that allows even apartment-dwellers to embrace the home-farming movement. It's a hydroponic system that allows you to grow up to 50 varieties of edible plants with minimum water or energy expenditure.
A smart power management system keeps light and water cycles to a minimum – with the manufacturers claiming the efficient sun-coloured LEDs use less than 20 cents of electricity per day.
GrowBox manufacturer OPCOM Farm knows its users are concerned about the contents of the food they eat – so they've created an end-to-end system which includes access to a bank of non-GMO seeds.
The GrowBox system accommodates plants to a height of almost 1 metre – and its footprint is around the size of a two-seater dining table. If that's too much real estate, there is also the GrowWall which holds up to 75 plants over five tiers.
GrowBox – $875 and GrowWall – $1,014 – opcomfarm.com
Avanti Montari E
Sure, electrics bikes are more environmentally friendly than cars – but they're not quite on the same level as pure pedal power.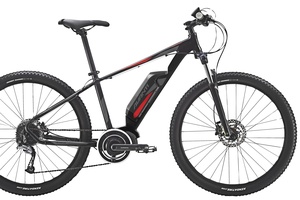 However, if you must have some assistance with the hills, longer riding sessions, or in getting to work without being covered in sweat – then it'd be hard to overlook the Montari E from Kiwi bike-makers Avanti.
You can barely tell this is an electric bike – it presents as a good-looking mountain bike, with the Shimano STEPS motor placed at the bottom bracket. The motor may have taken the space normally reserved for your drink bottle – but you won't need to over-hydrate with electric pedal assist. Flick the switch, and the electric engine helps you pedal like a champion to 25km/h, and is then electronically programmed to keep you at that speed.
Build-wise, the Montari E's has a light alloy frame. The front fork has 100mm of suspension for those off-road bumps, but can also be locked for on-road use.
$3,300 – avantibikes.com
TAG Heuer Connected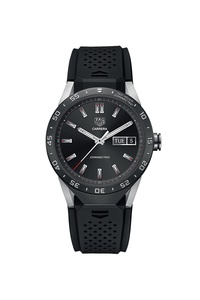 Finally, a premium smart watch worth its salt. The TAG Heuer Connected is a modular system that lets you specify materials from the factory, and straps day-to-day.
The manufacture and build quality justifies the price range, while some of the 'smart' functions are a little lacking – no heart-rate monitor, for example.
It does have an Intel dual-core processor, and 1GB of main memory – and boasts accelerometer, gyroscope and Bluetooth. But probably the most attractive aspect for horophiles is the ability to digitally switch between various TAG Heuer faces displayed on its OMLED screen – allowing users to enjoy the look of several different timeless (!) designs with one purchase.
Android and iOS compatible. $2,187 – $14,435 – tagheuer.com
Ellipse Bike Lock
To keep your valuable vélo out of the hands of villainous voleurs, take a look at this sun-powered smart bike lock. The Ellipse boasts these cool little solar cells, which are wrapped around the barrel of its 17mm-thick steel shackle.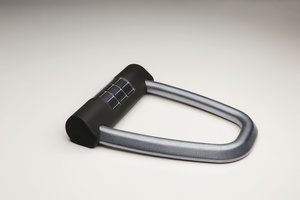 The manufacturers claim the lock will charge in both outdoor and indoor light, and can also be topped up by USB power. Via a smartphone app and long-range Bluetooth, the Ellipse can alert users if their bike is being tampered with.
Other 'smart' functions include 'keyless entry', which allows you to unlock with a tap of your phone; and a built-in accelerometer, which detects if you've had a crash, and automatically notifies your emergency contacts, showing them on a map where you've come to grief.
Its manufacturer, Lattis, takes its eco-cred a step further, using the lock and accompanying app as the basis for low-cost bike-sharing networks – helping entire cities use fewer fossil fuels and embrace the bicycle.
$290 – lattis.io
Robomow RS612
What if instead of growing the greens you wanted to eat them up? Well the Robomow RS612 can help with that.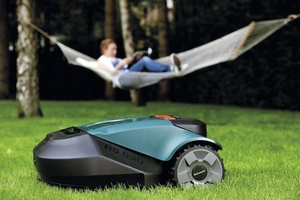 It's a robot lawnmower. The grass-cutting equivalent of a Roomba – yet possibly with more danger factor. There are a few of these on the market now, but we like the RS612 because it can handle hills – it'll cut grass on slopes up to 35 degrees, in fact. It automatically returns to its base station for charging when it's had enough, and then picks up where it left off.
You can set the Robomow to constantly maintain grass areas up to a quarter acre, and it even has humidity sensors, so it can decide by itself it it's too wet to mow. The downside is that instead of 'free ranging', robot mowers require their boundaries to be set by guide wires – which some may find a little unsightly.
$2,770 – amazon.com