Every room in the home should be a haven of sorts, and the world of well-designed hotels can offer a wealth of inspiration on how to turn homes into veritable escapes. Here we look at the recently unveiled Naumi hotel at Auckland Airport.
Taking their inspiration from the tui bird, designers from Material Creative and Ellery Muir refitted the old, 193-room Hotel Grand Chancellor Auckland Airport. They based some of their creative choices on the native bird's plumage and aspects of its vibrant personality and song.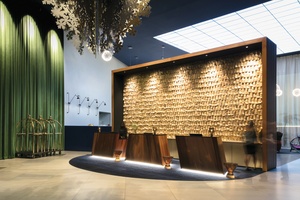 According to Toni Brandso from Material Creative: "Layered timber shingles in the lounge and bedroom bedheads, layered gold 'feathers' on the reception wall, gold feather disk artwork and the feather-like tiles in the bathrooms" all pay homage to the bird.
The tui's colouration, which appears plain black at first sight, includes deep metallic hues that range from greens, blue, purple and bronze accents.
These gradients have been used throughout the hotel, lending the space vibrancy and motion. The designers have complemented these spaces with both bespoke and off-the-shelf furnishings that include the Arnold Circus Stools by Martino Gamper, custom-made rugs by Designer Rugs and much like the bird song itself… a near-symphonic array of others.