Good weed hunting with Clooney's Jacob Kear
We chat with Clooney's head chef Jacob Kear about being at the helm of the iconic restaurant for the last seven months, his passion for foraging and some of the local ingredients that are rocking his world.
Have you found any surprising ingredients during your time in New Zealand?
Jacob Kear (JC): Yes, lots of cool stuff out here, especially in the Rotorua area. For example, I came across Douglas fir and redwood, which I made into a dish called Rotorua.
We had Douglas fir around the plate with a small plate inside it and redwood granita and puff rice. Then we poured this liquid nitrogen… we had this hot water in the bottom, which was a cold infusion of the pine. So when you poured the liquid nitrogen in it, it became the aroma of Rotorua – the pleasant aroma, not the other one.
Also kawakawa… I am super-stoked about that. I've stopped playing with it, but I am waiting for that nice red berry to come out to figure out how I am going to use it.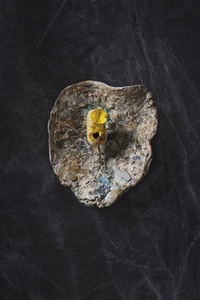 Why forage?
JC: It has been done for thousands of years and is an art form that we lost because grocery stores and farmers' markets have made it so easy to get ingredients. It gives an X-factor to our cuisine and our story; it is important to our culture and is an important tool for our kids' appreciation of food… using ingredients that locals were using back in their time in certain ways. It is cool for that.
Any tips for the amateur forager?
JC: Don't eat whatever is out there. Highly research it. Also stay away from wild sherbyl/ wild carrot because it is very similar to hemlock, and that is highly poisonous. It killed Alexander the Great!
I always carry a book with me called The Forager Handbook by Miles Irving. It has beautiful drawings of everything out there. It is based on UK plants but there are a lot of similar things everywhere in the world. René [Redzepi, owner of reknown Noma Restaurant where Kear used to work] also recently put out a great app called Vild Mad ['wild food' in Danish].
Let's talk gear. Anything you use in your kitchen that you think every home should have?
JC: A Vitamix blender and a Thermomix. I call the Thermomix my other sous chef. It was made for household use but a lot of chefs use it now. I use it to make oils. You heat it up to 60 degrees, blend it for 10 minutes and you have this bright green chlorophyll.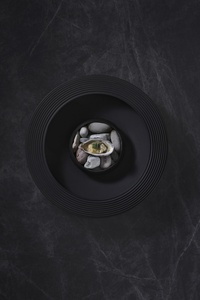 There are Japanese, Spanish, New Zealand and many other influences in your food. Why is that?
JC: It is who I am. It is a reflection of my journey. I am Japanese, and my grandmother taught me the classic Japanese style of cooking; in a lot of my dishes I focus on umami.
I grew up in California with all its Spanish influences, and also for me the presentation is about what I learnt in Copenhagen: simple, beautiful, eye catching. I don't want people to consider this fusion because it is not. It is just who I am… if they call me fusion I guess that is fine!
Simplicity also seems key for your dishes.
JC: Five components or less on the plate; that is my philosophy. It is hard but for me, it has to start from the ingredient especially as I am not doing too much to it. If the ingredient is not delicious already, I'm going to have to work twice as hard to make it so. If it is delicious already, all I have to do is showcase it with connected ingredients.
Stories are a huge part as well. Like this dish [right] I could have put the oyster on wet salt like so many people do. If you put it on rocks you are putting it back on its element: the sea crashing on the rocks, the shell hanging to the stones.