Buenos Aires: Segundo Denegri and Marcos Altgelt
After high school, Marcos Altgelt spent a year in New Zealand picking kiwifruit in Te Puke, followed by similar gigs in Tauranga and Hastings. The experience, he says laughing, "taught me endurance!" Back in Buenos Aires, Altgelt joined Segundo Denegri and Tasio Picollo – friends from architecture school – to establish Ries, their furniture-making company.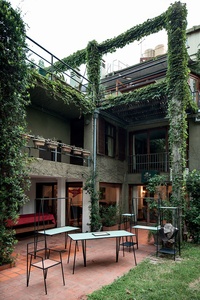 Their first collection, called Alpina, "looks like it was made in the 60s or 50s and we like those subtle and simple elements. The challenging part was to make this look like it has continuity," says Segundo. Alpina is simple, deconstructed and combines a slightly retro aesthetic with a very contemporary take on industrial materials. Welding points are visible, the steel grid used for back supports and seats (some of which is finished in copper, or powder coated) is a building material. Although it feels slightly like a concept rather than a finished product, it is an impressive first collection.
Happy with their efforts, the friends photographed the pieces in a haphazardly styled setting and "sent the images to our favourite blogs and magazines. The next morning we found that we had been flooded with emails," says Segundo. The pair still look somewhat shell-shocked that ever since earlier this year they have received daily requests from around the world to purchase or publish their work. "We were definitely not expecting this," says Marcos.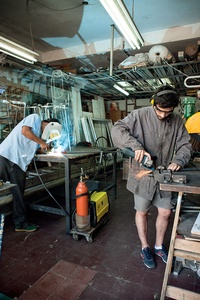 They manufacture everything themselves with fairly rudimentary tools and from a small, garage-like workshop nestled in a residential neighbourhood (the writers Jorge Luis Borges and Julio Cortazar grew up near here, say the designers with palpable pride). "The thing is we have fun working together," says Marcos, "the design process gets enriched when you make things yourself and although it is easier to tell someone else how to make it in large quantities… that's not the point right now."
"If we focused purely on fulfilling the orders we have received we would be stuck doing this [collection] forever, instead we are being selective," says Segundo.
As for their plans? Prototypes of their second collection are strewn around their workshop: drawings, random bits of metal and welding material reveal a sort of frantic goal.
"We are also hoping to find a like-minded distributor," says Marcos, asking if we can put in a good word with Auckland's Resident. "Everytime I hear the words 'New Zealand' I still get a smile on my face!"