Call for entries: ECC New Zealand Student Craft/Design Awards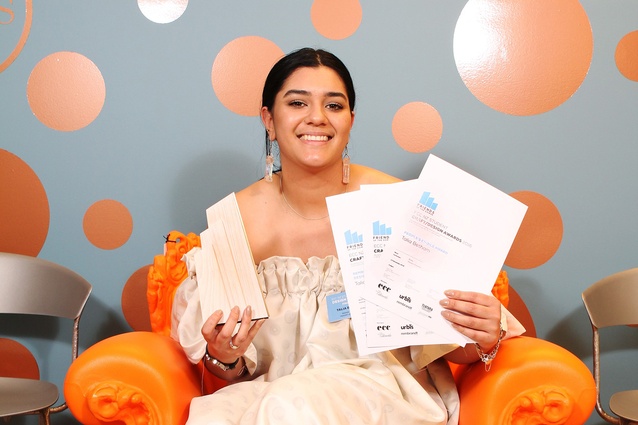 Entries are now open to the 2017 ECC New Zealand Student Craft/Design Awards – the only awards in New Zealand that recognises both design and craft disciplines.
Run by The Friends of The Dowse, the Student Craft/Design Awards have been supporting the emerging careers of designers and crafters for over 28 years. Entries are welcome in the fields of lighting, furniture and product design, ceramics, fashion, textile design, and jewellery, and close at the end of the day on Saturday 30 September.
The ECC NZ Student Craft/Design Supreme award is $2,000 in prize money. The Supreme winner will have their work exhibited at the ECC Wellington store for 2 weeks and be flown to Wellington for the awards evening.
There is one ECC People's Choice Award prize of $1,000 cash and ten highly commended certificates. Category awards include ECC Ltd Lighting Award $1,000; ECC Ltd Furniture and Product Design Award $1,000; Rembrandt Fashion and Textile Award $1,000, Tuatara Ceramics Award $1,000 and The Village Goldsmith Jewellery Award $1,000.
The judging panel has a line-up of talented designers and crafters in their own right, including Phil Bracen (from global nursery company phil&teds), Ian Douglas (founder of The Village Goldsmith), Anita Dykes (lighting consultant at ECC), Federico Monsalve (editor of Urbis magazine) and Jonathon Hall (design manager at Rembrandt).
Leading lighting and furniture design company ECC have once again come on board as the naming partner for the awards. Heather Crichton, awards organiser from the Friends of the Dowse, says that with supportive partners there is sure to be a good future for the awards.
"These awards are unique in that they foster and acknowledge those starting out in their creative careers. Tertiary institutions are also very supportive as it gives students from any year of study the opportunity to enter," she says.
A formal awards ceremony will take place at the ECC Wellington store on the 2 November 2017.