Technophile: a smart fridge, and gadgets for the kitchen and bathroom
With so much tech in our pockets right now, home appliance innovation is gravitating towards the domestic spaces we use daily. Kitchens and bathrooms are the new living rooms – and the gadgets are being built to match.
LG SmartView Refrigerators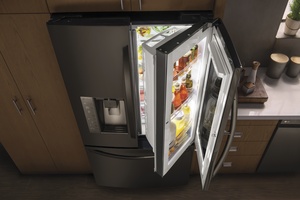 See-through refrigerator doors aren't anything new these days. And nor are refrigerators with touch-screen interfaces. But LG can claim a first with their Smart InstaView range – which combines both, with a little rap of the knuckles.
In standard mode, the glass panel on the front of this fridge is a fully-functioning 29-inch touch-screen interface – which allows you to look up recipes, order more supplies, browse the web or leave notes for the family.
But knock twice on that screen, and it becomes transparent – allowing you to see exactly what's inside the fridge without opening the door. Add to this a bunch of smart features like voice recognition ("yo, fridge – how do I make a soufflé?") and in-built cameras that allow you to check your food stocks remotely from your smartphone, like some sort of culinary creeper, and you have what LG is hoping will become the hub of your smart kitchen.
In the US, shopping and voice recognition will be via Amazon's Alexa – while the New Zealand market can expect the Smart InstaView refrigerator line to come equipped with Windows 10 and access to Cortana for spoken assistance.
Price is $TBC – lg.com
Prepara Herb Savor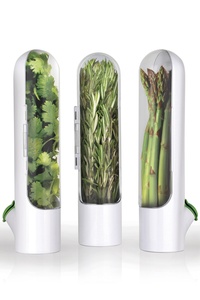 Just to get a little analogue on it for a second – the Prepara Herb Savor is a cheap and wonderful kitchen device that may stop botulism in your basil or the corrosion of your coriander. In fact, the Savor promises to keep your herbs fresh for up to three weeks.
The BPA-free plastic container allows herb stems to be kept in a refreshable reservoir of water, while providing a hard shell to prevent the plants from being crushed or starting to rot. The dimensions allow it to fit easily into most fridge doors, meaning the Savor is a space saver as well.
Simple, effective, and not connected to the internet in any way whatsoever. 
Prepara Herb Savor – $42 – prepara.com
Genican Smart rubbish bin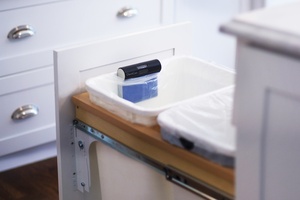 Why, dear reader, in a world of connected devices, should the humble rubbish bin be left in the land of the Luddite?
Genican gives you the opportunity to make your rubbish bin 'smart' – with its chief trick being the ability to scan the barcodes of the packages you're discarding. Boom! You now know when you're out of beans. And Genican will add them to your app-based shopping list – or even re-order them for you online.
The Genican is a device that clips onto the side of your rubbish bin and uses sensors to detect and scan items. If the item doesn't have a barcode, this clever little bugger can also utilize voice recognition to log your trash.
Creepy or cool? It's your choice. Of course you can also still toss stuff out anonymously, without the rubbish bin judging you. 
Genican – $206 – genican.com
Bosch Mykie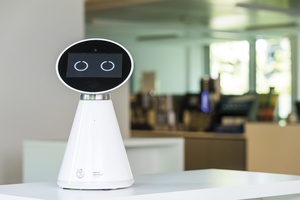 If you're lonely in the kitchen – then maybe Mykie the robot can help. At its core, Mykie is basically a smart speaker, a bit like Amazon's Alexa, but those wacky Germans want it to be something more. In fact, they're calling it your Kitchen Elf.
Mykie can control other Bosch-connected devices, like dishwashers and ovens, but what it really wants to do is help you cook. You can ask it for recipes and weather reports, and it also has a handy little projector implanted in its rear end.
This acts as a kind of heads-up display for the kitchen, and anyone who's tried to follow cooking instructions on a tablet (hello splashes and mess) may well appreciate this.
It also has some anthropomorphic qualities – like a face, with little blinking eyes and a swivel head. It's yet to land on the market – but watch this space. 
Bosch Mykie – $TBC – bosch.co.nz
Hydrao Shower Head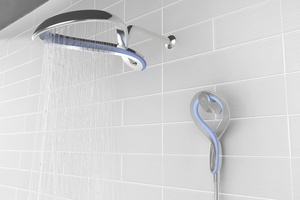 Finally, one for the bathroom – and for the water-conscious. The Hydrao smart head has an integrated LED lighting system to illuminate your shower stream and tell you when you've been basking too long. If you're under 10 litres, then you're in the green – and then the lights graduate through blue, purple and red.
If the wrinkles on your fingers don't tell you that you've been in the shower too long, then the blinking red lights (indicating over 40 litres used) will. Also doubles as a handy shower disco.
Hydrao Smart Shower Head – $140 – hydrao.fr