Hyundai Card launches a cooking library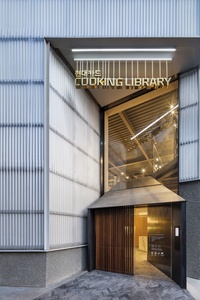 In an attempt to "provide an 'analogue' antidote to the fast pace of city life in the digital age" a credit card company in Seoul, Korea, has been launching a series of four intriguing, standalone libraries including a travel, a music and a design library. The latest (pictured here) is a five-storey space dedicated to the history, pleasure, and traditions of cooking.
The Blacksheep-designed space includes a bakery/deli/café section, a recipe and food history book library, an ingredients house (which acts as a repository of and discovery centre for exotic cooking ingredients from around the globe), an events/demonstration kitchen, a glass house for herbs with an adjacent dining area and a full commercial kitchen.
This, as well as the other libraries in the series, are architecturally designed, fitted out with impeccable materials and, although seeking an analogue feel, also incorporate state-of-the-art technology to fully enjoy the materials from their respective disciplines.