Urbis headed to Frankfurt to discover some of the masterminds behind the city's transformation from being "Berlin's little brother" to something entirely unique. Here is a portion of our published feature (issue 92, June/July 2016).
In the heart of Frankfurt's red-light district, on an unassuming corner and with no signposting, sits Plank. Described on its website as a café-bar-studio, Plank is frequented by artists, creatives and students, as well as the bankers and insurance brokers the city is known for. Day and night, in any weather, its customers spill out onto the street, drinking the excellent coffee which is served in glasses on a small tray, or sipping wine and cocktails. The style is casual, and for a lot of Plank's regulars, this is a second home.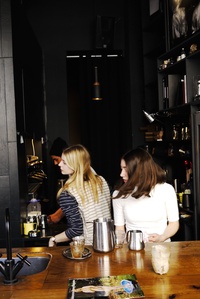 Sonja Schmid opened this place five years ago with her ex-partner Ata Macias, who is a renowned DJ and the owner of the popular and hip nightclub Robert Johnson. Nowadays, running the joint on her own, she has added her own flavour, fitting it out with art and sculptural pieces made by staff – who are mostly students at the Stadelschule (art school). The furniture was built by artist Martin Wenzel, and Schmid chose Japanese fabrics for the upholstery and cushions. 
"When we first bought the place, Ata had been living in this house (above the bar) for 15 years and he knew a lot of interesting people in the area, but there was nowhere to go out in the evening and have a drink," says Schmid.
"We bought out the shops on either side to make it bigger. First we thought we would leave the old furniture and just give it a new paint job, but after a good look, I said 'no'! There were spiderwebs and animals and stalactites and stalagmites! It was a rough bar before; sometimes we still get people coming out of jail looking for the old place," she says.
Schmid was born in Giessen, less than an hour's drive from Frankfurt. She used to come to Frankfurt every weekend as a teenager and always knew she would end up living in the city.
"I couldn't live in the countryside. I met all my friends here. In the past, the style of cafés and restaurants here wasn't so nice, but something has happened. The owners have looked over the borders of Frankfurt and gone to other cities and got inspiration. There is a more international style coming in."